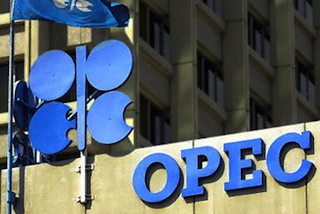 Oil extended losses in Asian trade Friday after the OPEC cartel refused to cut production despite a global glut that has sent prices slumping to four-year lows, with analysts warning of further falls to come.
US benchmark West Texas Intermediate (WTI) for January delivery was at $68.63 a barrel in late afternoon trade, down 42 cents from its settle price in electronic trading in New York on Thursday. US floor trading was closed due to the Thanksgiving holiday.
Brent crude for January fell 66 cents to $71.92.
The Organization of the Petroleum Exporting Countries, which pumps out one-third of the world's oil, opted to stick by its output target, even after prices have plunged by 35 percent since June.
The 12-nation cartel "decided to maintain the production level of 30 million barrels per day" where it has stood for three years, it said in a communique after a meeting Thursday at its headquarters in Vienna.
Oil prices were routed after the decision was announced, with WTI tanking to $67.75, a level last seen since May 2010, while Brent also plunged to a four-year low of $71.25.
"OPEC's decision to keep output is the main reason for prices to drop quite rapidly," said Daniel Ang, an investment analyst with Phillip Futures in Singapore.
"Prices are likely to be going down for the rest of the year," he told AFP.
Ang, who closely tracks the oil market, said he expects WTI to end 2014 in the "low 60s" and Brent in the "mid-60s".
At Thursday's OPEC meeting, the cartel came under pressure from its poorer members, including Venezuela and Ecuador, to trim production as tumbling prices were eating into revenues and raising fears over their economies.
But the group's powerful Gulf members led by kingpin Saudi Arabia resisted the calls to turn down the taps unless they are guaranteed market share, particularly in the United States, where cheap shale gas has contributed to the global supply glut.
– Energy firms take a hit –
Another member, Kuwait, supported the move with the country's oil minister Ali Omair saying: "We decided that price will adjust itself based on supply and demand and that OPEC is supposed to safeguard its market share in order not to lose its clients."
He suggested the United States should also bear responsibility and lower its own output of shale oil.
Venezuelan President Nicolas Maduro said on Thursday he would keep pushing OPEC to slash output.
"We have not succeeded yet, but… we will continue to try until prices return to where they should be, at around $100 per barrel," he said in a televised address in his country, which depends on crude exports for nearly all of its hard currency revenues.
In Asia, energy stocks took a beating. US markets were closed for Thanksgiving.
Santos, one of Australia's largest oil and gas producers, slumped 13 percent at the close of trade Friday and BHP Billiton was down 3.37 percent in Sydney, while Hong Kong-listed CNOOC was off 5.5 percent and PetroChina sank 3.33 percent.
However, Asian airlines — whose main cost is fuel — soared. In Hong Kong, Air China jumped 6.44 percent and Cathay Pacific gained 5.04 percent, while Tokyo-listed Japan Airlines added 5.28 percent and rival ANA jumped 7.39 percent.
Qantas gained 6.96 percent in Sydney and Korean Airlines was up 4.74 percent in Seoul. Singapore Airlines closed 2.57 percent.
Malaysian bank CIMB said a further decline in oil prices means Asian governments were unlikely to raise interest rates soon.
"Expectations of monetary policy tightening now gets further behind the line, as global reduction in inflation could only mean the urgency to hike or tighten monetary conditions becomes less of a concern for emerging Asia policy makers," it said.
Load more