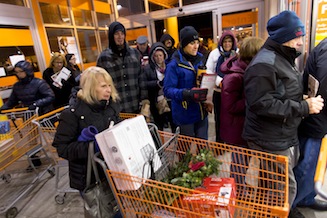 Police blasted stores for bringing "Black Friday" to Britain, with the US sales event descending into chaotic fist fights as frenzied consumers battled to grab discounted goods.
In scenes of pandemonium around the country, common civility went out the window as yelling customers punched it out in a bid to secure reduced-price televisions and coffee makers.
Police in Manchester said three people had been arrested as the sales spiralled "out of control" after stores in the city in northwest England opened at midnight.
"The events of last night were totally predictable and I am disappointed that stores did not have sufficient security staff on duty," said Greater Manchester Police Chief Constable Peter Fahy.
"This created situations where we had to deal with crushing, disorder and disputes between customers."
His deputy Ian Hopkins said they had to close several outlets of Tesco, Britain's biggest retailer.
"People have been trampling on each other and it's been akin to a mini-riot in some of the stores," he said.
"A lady's had her wrist broken, a member of the public in a wheelchair had a TV dropped on them and a security guard in one of the stores has been punched."
They urged stores to learn the lessons for next year and work with the police to reduce the risks of disorder.
A Tesco source said: "We will work with them following this event to make any improvements for next year."
Jamie Hook was buying food at the Stretford Tesco in Manchester late on Thursday when "the screaming started".
"I looked at the massive crowd to see people climbing over shelves and displays, staff running for cover, fights breaking out, stock flying through air, people breaking through carrying televisions — and this was before the sale had even started," he said, according to the BBC.
"The lady on the till I was at was in tears, terrified."
Shaun Thompson, 21, said he saw a female member of staff in the store with what appeared to be a black eye.
"It just went mad. People were shouting their heads off and a few minutes after that it exploded," he said.
"People were ripping covers off the shelves, they were fighting with each other, fighting over TVs.
"I have never seen anything like it in my life. It was quite scary."
Footage from an ASDA supermarket in Wembley, northwest London, showed security staff struggling to contain a crowd of shoppers grappling for cut-price televisions.
Some customers had to be separated as the sale sparked furious exchanges, while two women were seen wrestling over a TV.
London police sergeant Paul Marshall said on Twitter: "Even on Black Friday shoving people to the floor so you can get £20 off a Coffee Maker is still an assault."
The sales event takes place each year in the United States the day after their Thanksgiving holiday.
The imported event is expected to be one of Britain's busiest shopping days this year.

Load more