Abiodun Onafuye/Abeokuta
A former lawmaker in Ogun state, Hon. Kunle Adegboyega has cautioned the former governor of the state, Otunba Gbenga Daniel to stop ranting all around, instead he advised him to shut his mouth up and stay quietly in his house, enjoying his untimely retirement rather than criticising the good work of the present administration.
Texaco, as he is fondly called also adviced the former governor to praise the good work of the present administration and not criticize it.
Adegboyega, was a member of the G-15 lawmakers of the People's Democratic Party, PDP during the sixth legislative period that fought Otunba Gbenga Daniel tooth and nail during the last hurdle of his government.
Now the Special Adviser to Governor Ibikunle Amosun on Youths Affairs, Adegboyega believes that the ongoing infrastructural development witnessed in the state from the present government can never be compared to that of Daniel's era in any way.
Reacting to comments Daniel made yesterday while featuring on a radio programme in Abeokuta, Adegboyega thanked the good people of Ogun State for their comments and reactions to Daniel's accusations, which he described as a "Paramount Show of Shame".
The former lawmaker however disclosed that all the roads constructed by the Daniel's administration were substandard and posited that he has facts and figures to buttress his condemnation.
Adegboyega, who was once, Chairman, House Committee on Budget and Finance maintained that any right thinking person would never compare Amosun with Daniel as both are incomparable.
"It is unfortunate that the former governor is still coming out to talk, even on a radio programme, something he would never have allowed when he was governor. I worked closely with him and I know the kind of person he is. He should have remained in his house and shut his mouth up rather than criticizing the good work of the present administration.
"I listened to the programme yesterday and let me first thank the good people of Ogun state for their reactions and comments during the programme. Ogun people are now more wiser, this is not his administration. There's no room for 'arrangee' callers again. I believe he would never expected such condemnation.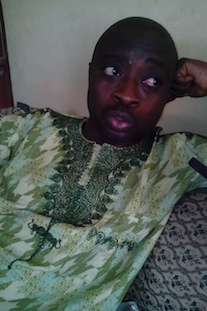 "I was the Chairman, House Committee on Works when I was in the House, so I had the opportunity to move around the state and inspect all the roads been constructed by then state government. I want to say without fear or favour that all those roads were substandard. When we went out to inspect all the roads and came back, I refused to read the report and I challenged him (Daniel) or anybody to come out to argue that with me.
"I decided not to read the report because it had been tutored. I was asked to read what never existed and I refused, till we left the House, the report remained untouched. He is now condemning the projects of the present administration, what a mess?, He should close his mouth. Ogun people are happy with the development now and he should just leave us.
"The Lalubu road he said he constructed, has he forgotten that there was an allocation for patching the roads all the time from the House. If he has done a very good work, we won't have substandard projects all over. I remember a day we went out for inspection and out of the blues, my wife called me to ask which project we were constructing and I told her that we are on inspection and she advised me to tread softly as many people have been calling her to warn me. I was shocked when she called because I never told her that I am going for such assignment. So is that the kind of projects we should still be doing in this state, if we have done a better work, should we have any course to allocate money for patching again?" Adegboyega asked rhetorically.
He lambasted the former governor for his comment on the increase of Internally Generated Revenue of the present administration, when he (Daniel) claimed that he laid the foundation.
"He lied to have said that he laid foundation for what the present government is riding on, in terms of IGR in the state. He said he gave the people two years tax holiday to prepare them for what the present government is benefitting. He used to boast that his administration has done very well in the state for the eight years rule, now he is singing another song, that they laid foundation. If he had laid foundation for eight years and someone else is riding on his foundation in less than four years and achieving a lot, my brother, it means, he has not done anything," Texaco stated.
He assured that the governor will no doubt win again in 2015, claiming that he has not seen any serious opposition that can match Amosun's government with what he has done in the last three and half years.
Load more