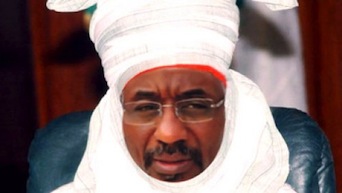 Three explosions on Friday rocked the mosque of one of Nigeria's most well-known Islamic leaders, the Emir of Kano, as worshippers gathered for weekly prayers, witnesses told AFP.
"Two bombs exploded, one after the other, in the premises of the Grand Mosque seconds after the prayers had started," Aminu Abdullahi said, adding that a third went off nearby.
According to AFP, the Emir, Sanusi Lamido Sanusi, was said to be inside the mosque at the time, with the explosions happening in an outdoor courtyard, and there was no immediate word on casualties.
Abdullahi and another witness, Hajara Tukur, who said she lives nearby, said the police began firing weapons in the chaos that followed the blasts, as worshippers began scrambling for safety.
Preaching at Kano's Grand Mosque last week, the emir urged northerners to take up arms against Islamist group Boko Haram and cast doubt on the military's ability to protect civilians and end the insurgency.
The Emir of Kano is a hugely influential figure in Nigeria, which is home to more than 80 million Muslims, most of whom live in the north.
Officially the emir is the country's number two cleric, behind the Sultan of Sokoto.
Sanusi, who was named emir earlier this year, is a prominent figure in his own right, having previously served as the chief of Nigeria's central bank, where he spoke out against massive government fraud.
An attack on Sanusi could inflame tensions in Kano, Nigeria's second city and most populous in the north.
Load more