Okafor Ofiebor/Port Harcourt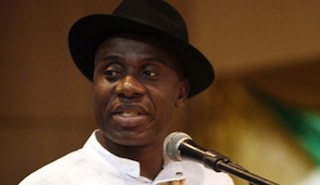 Governor Chibuike Amaechi of Rivers state, has appealed to potential voters in the state to ensure that they collect their Permanent Voters Card (PVC) which started today.
In a statewide broadcast the governor said that today signifies a major point in the preparations for the 2015 general elections.
Amaechi said that as a government, desirous of ensuring sustainable development for its people and with firm belief in the power of the people to make a positive change, citizens are required participate in the exercise handled by Independent National Electoral Commission, INEC.
The governor said "In spite of the various challenges experienced by the Independent National Electoral Commission (INEC), we urge our citizens not to relent in participating in the exercise. It is our hope that the electoral body will do all that is necessary to ensure a hitch-free exercise in the state and that no eligible voter is denied their card or registration."
He reminded the citizens of the state that through their participation they can individually and collectively elect credible men and women into various positions in the forthcoming 2015 general elections.
"Your Permanent Voter Registration Card guarantees you a voice in governance."
The INEC exercise which started on Frida 28 November continues till Tuesday 2 December, while continuous Voters Registration will begin on Wednesday, 3 December to Monday 8 December.
He said further that the importance the state government attached to the exercise was the reason why it declared Friday a work-free day to enable all registered voters, particularly civil servants collect their voter's cards.
Amaechi assured that the state government we will not relent in upholding the tenets of democracy and remain committed to the provision of basic infrastructure and services to our people.
"Democracy is about the people. Your voters card is your instrument to ensuring good governance and accountability. Remember the right to vote and be voted for is sacrosanct."
Load more