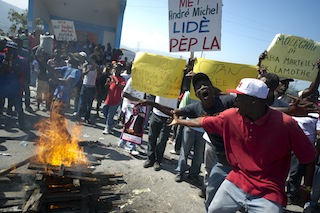 Thousands of angry protesters hit the streets of Haiti on Friday to demand the resignation of President Michel Martelly, in the latest public outcry over long-delayed elections in the troubled Caribbean nation.
Haiti has been mired in political crisis for three years over the failure to hold municipal and legislative elections.
If elections are not held before January 12, parliament will be automatically dissolved and Martelly can rule by decree.
Demonstrators called for Martelly and Prime Minister Laurent Lamothe to step down, accusing them of mismanagement.
"Down with Martelly! Down with Lamothe, chief of corruption! They have to go!" chanted the protesters, who gathered at government headquarters in central Port-au-Prince.
Several main roads were blocked as demonstrators piled rocks in the streets, overturned trash cans, and burned tires and barricades.
Later in the day, in a televised address to the impoverished nation, Martelly announced the formation of a committee of "credible and honest personalities" tasked with finding a way out of the political impasse. They will make their recommendations to him.
"My brothers and sisters, the country is divided, the problems are numerous and complicated," he admitted.
Multiple demonstrations have been staged in recent weeks and police have arrested several people, sparking further ire from the crowds.
"We are here to demand freedom for the women who were arrested in anti-government protests and are being held without trial," said one protester.
"We demand the departure of this administration and the organization of free, honest and democratic elections," said another.
The protests come one day after more than 20 opposition groups spoke out against the long election delays and condemned any moves by Martelly to rule by decree.
"We are alarmed by the risk of a political vacuum when parliament closes on January 12, 2015, as none of the planned elections have been held over the last three years," the group said in a statement.
Recent talks initiated by the government aimed at resolving the crisis before the end of the year were boycotted by opposition parties.
Load more