About 40 passengers and crew of a Lagos bound Overland aircraft escaped death in Ilorin when the plane crash landed at the Ilorin airport.
Among passengers on board was a member of the House of Representatives, Ali Dodo; and former Vice Chancellor of University of Ilorin and now Secretary General of the Nigerian Supreme Council for Islamic Affairs (NSCIA), Professor Ishaq Oloyede.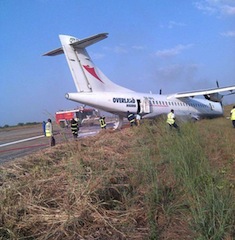 The crash occurred at about 4:35 p.m. on Saturday and it immediately caused pandemonium as firefighters quelled the fire outbreak that resulted from the crash.
The plane which was heading for Lagos stopped over at Ilorin to make a drop off as well as pick up other.
According to reports, the plane failed to get its front tyres off the ground leading to the accident.
Load more