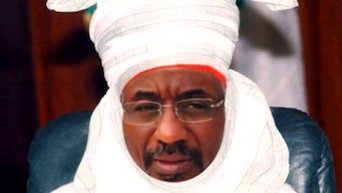 The Emir of Kano, Muhammed Sanusi II, on Saturday visited the city's bloodstained central mosque, 24 hours after coordinated bomb and gun attacks there that left at least 120 people dead.
During the 20-minute-visit to the mosque, which adjoins his palace in the city, the emir directed the place be washed and cleaned, an AFP correspondent at the scene reported.
Sanusi was out of Nigeria on Friday, when the deadly assault on the mosque occurred. Last week, the emir — who is the country's second most senior Muslim cleric — made a call at the same mosque urging civilians to take up arms against the Islamist extremist group Boko Haram.
"From all indications, they (attackers) have been planning this for at least two months," Sanusi said as he arrived at the mosque straight from the airport. He did not give details on what information supported that assertion.
"I have directed that the mosque be washed and cleaned and prayers should continue here," he said.
"We will never be intimidated into abandoning our religion, which is the intention of the attackers."
Nigerian President Goodluck Jonathan vowed Saturday to hunt down those behind the "heinous" attack.
A senior rescue official late Friday gave AFP the preliminary death toll of 120. The official also said that at least 270 people were wounded in the attack, which saw two suicide bombers blow themselves up and gunmen opened fire during weekly prayers at the Grand Mosque in Kano, the biggest city in the mainly Muslim north of the country.
Load more