And thus, near furtively, he left, the last of the vintage links to Ibadan of the Penkelemes Years. He left quietly, as he lived his life – fusslessly. Slight and willowy, he exuded an irrepressible optimism in the social therapy of theatre, and its autonomous but vulnerable existence as a community in itself, for which no personal sacrifice is excessive.
Dapo Adelugba – "Uncle D" to many – embodied, and lived that credo. He taught it and infused a younger generation with its spirit both by example, and through mentorship. His slight frame belied his energy and intensity in pursuit of this all-consuming mission.
Dapo's unobtrusive presence was a mask for his creative capacity, loyal to an idea, even to a fault. My mind leaps instantly to a thankless burden he undertook when he pioneered the weekly television drama series after I was thrown into detention during the civil war. Dapo flogged himself nearly death to generate new scripts, edit, adapt and present play upon play – Wale Ogunyemi among his stalwarts.
In between lecture commitments he would rehearse and tape, sometimes late into the night, determined that Orisun Theatre would not go down despite my absence, and despite the depredations of the civil war. When I emerged and watched him at work, ensuring that the next play would go on as scheduled, I could only marvel at his dedication. It seemed a heartless decision to terminate the series, but quality had suffered from the sheer pace and volume of production. Dapo did not demur, though he was pained.
What a sadly nostalgic note on which 'Uncle D' has chosen to take his final bow, and exit. Ibadan has again turned violently 'penkelemessy'. The rampages of the past few days grimly echo the political environment of those nineteen sixties which called into being Orisun Theatre, its mission to puncture social afflatus, gore sacred cows, call power to order, and warn against the turbid present Before the Blackout.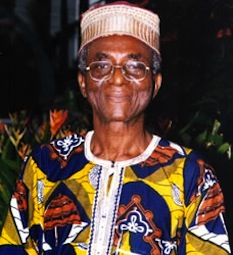 Those were the days when parents were threatened, even dismissed from positions, for permitting their children to participate in sketches that 'abused' – that is, criticized – the establishment, while the performers were themselves physically harassed and assaulted.
'Uncle D', who at the time lived at the opposite end of Ibadan from the university, refused to be intimidated. After rehearsals that often
went late into the night, the day was only beginning. It was the turn of night haunts of Ibadan – Agoji Mayor, Seven Sisters, Risikatu, Total Gardens with their night-song avatars – Black Morocco, Tunde Nightingale and company. But they were hangouts also of the mercenaries of establishment power – still, there it was there that Dapo was equally at home, like a wall gecko stuck into the interstices of the deep night warrens of Ibadan. There we eyeballed and/or engaged the sponsored thugs in light banter till the early hours of the morning. Sometimes it did erupt into violence but today, how
"civilized" it all appears!
I can never forget the day Dapo tracked me down to one of my hideouts and left me open mouthed in bewilderment. I had never known him so angry, so angry that he could not get out the words. Then the strangest transformation – as he tried to splutter out what had so agitated him, he burst into tears. That was even more unsettling. Finally, it all came out. I had just been released after my trial over charges of holding up a radio station, following the government's announcement of brazenly fictitious electoral results. The general mood – from which I had taken refuge – was all celebratory, yet here
was Dapo in a rage, then tears. His grouse? That I should have placed myself at risk in the first place!
How tame those seasons of fascist thuggery now appear, beside the present culture of executive thuggery and impunity. Uncannily, Dapo Adelugba appears to have quietly responded to his own admonition of the sixties – he has taken himself beyond menace, rage and frustration, leaving us memories, the imperishable asset of humankind….
Dakar, London, Paris, Germany, tours from one end of Nigeria to the other – workshops, sketches, improvisations, adaptations and rounded performances….in pursuit of the elusive, the magical moment of sheer revelation that commences with "Lights Out", when the numerous elements that go into a dramatic performance hover around an auditorium, then fuse and light up humanity's darkness. Afterwards, a quiet exit for Risikatu, Agoji Mayor and the restorative sounds of the Tunde Nightingales of the Great Beyond…..yes indeed, 'Uncle D' – the Show Must Go On.
Load more