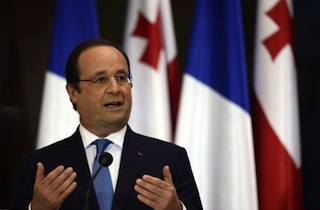 France does not want to preach democracy to its former colonies, President Francois Hollande said Sunday after taking flak for accusing African leaders of seeking to cling to power.
Pointing to the recent military takeover in the former French colony Burkina Faso, Hollande said "we have seen the reactions that can provoke."
But he said at the end of a summit of French-speaking countries that France "is not in a position to give lessons… to whatever continent."
On Saturday at the meeting in the Senegalese capital Dakar, Hollande said "all human beings should be allowed to choose their leaders."
Rwandan Foreign Minister Louise Mushikiwabo said the French leader should not "decide what will happen in African countries concerning their political future."
She added: "It's a 'Made in France' democracy, and in Rwanda we find that shocking."
Allies of Rwandan strongman President Paul Kagame have called for a referendum to change the constitution to allow him to seek a third term in 2017.
Kagame's Rwandan Patriotic Front is a former rebel army that helped end the 1994 genocide and is now the major political party.
He was elected in 2003 and 2010 is ineligible to stand again.
Hollande said Sunday: "There can be revisions to the constitution but when a people has adopted a constitution and rules have been set for candidates to a presidential election, it shouldn't be a question on the eve of a vote to change the constitutional order."
Load more