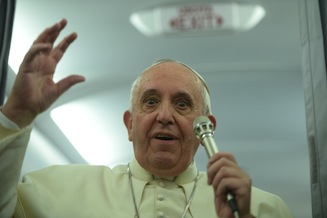 Pope Francis has condemned the triple bomb blasts that ripped through the Grand mosque in Kano during Friday 28 November weekly prayers. The explosions killed over 120 people and injured over 270.
During his historic visit to Turkey, the Catholic Pontiff joined French President Francois Hollande in condemning the attack and has called for a united front against the barbarism of Boko Haram Islamists.
Pope Francis labelled the attack an "extremely serious sin against God".
In a meeting with Turkish political and religious officials, at the start of his second trip to the Middle East this year, the Pope further urged Muslim leaders to condemn the "barbaric violence" being committed in Islam's name against religious minorities in Iraq and Syria.
Pope Francis visit is aimed at improving inter-faith ties.

Load more