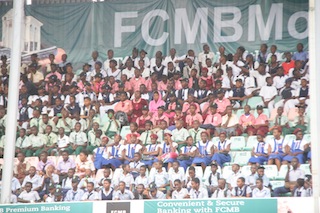 The main draw of the 1st Nigeria Port Authority (NPA) Tennis Championship will serve off in Abuja Monday with 100 players battling for the N5.7m prize-money.
The tournament, which is taken place at Package B of the Abuja National Stadium, served off at the weekend with preliminary matches in the Men and Women Singles.
Secretary-General of Nigeria Tennis Federation, NTF, Gloria Ekwenpu said modalities for a successful tournament have been put on ground. All the players for the main draw will enjoy free accommodation as well as feeding throughout the week-long event.
At the formal signing of a Memorandum of Understanding (MoU) between the NPA and the Nigeria Tennis Federation (NTF) in Lagos last week, NPA's Managing Director, Habibi Abdullahi, described the partnership as one borne out of the organization's desire to contribute its quota to the country's tennis development.
"This MoU is important because this is another milestone for us at NPA and we believe that through this we can contribute our quota to the development of sports just like we have done in the past," Abdullahi said.
NTF President, Sani Ndanusa assured that everything will be done by the federation to make sure that the status of the championship rise to an ITF-approved tournament.
He stated that the Governor's Cup Lagos Tennis Championship which is among the few top-rated championship in Africa started as a national tournament before it moved up to an international tournament few years later.
"We at the NTF are looking forward to a date in few years to come that the ITF will approve the NPA tournament into its calendar thereby drawing the best players in the game across the world to Nigeria as the Governor's Cup Lagos Tennis Championship has been doing since inception," Ndanusa said.
Load more