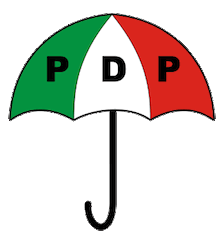 Mr Yusuf Mugu, a Kaduna State House of Assembly aspirant, who contested the Saturday's PDP primaries to elect the party's flag bearer for Kaura constituency, has called for the cancellation of the election.
Mugu, a lecturer in the Education Department of the University of Jos, got 28 votes behind the incumbent, Yakubu Bittiong, who garnered 31 votes.
NAN reports that 59 delegates, out of the 63, were accredited to form the Electoral College for the election after four delegates were stopped from voting by the Returning Officer, Mr Sam Achi.
But in a petition addressed to the appeal panel, constituted to hear complaints from the election, Mugu declared that the elections were flawed from the accreditation process to the actual conduct of the exercise.
According to him, the election was delayed for "many hours", following quarrels and arguments among stakeholders, the electoral team, party ward chairmen and elected officials, over the names to be cleared.
"There were discrepancies involving four names. Delegates that emerged from the ward congresses of Nov. 1, and whose nomination forms were signed by their ward chairmen, who were Returning Officers of the ward congresses, were replaced with "strange names."
"With the argument dragging to no end, the returning officer advised that the four delegates be kept aside so that the elections will hold.
"But with less than three votes separating the two aspirants, it is very important that a new election be held, or in the alternative, the four properly nominated delegates be allowed to vote to determine the right candidate," he said.
Mugu recalled that the returning officer had advised aggrieved aspirants to raise the issue of the "four hanging votes" should the need arise for them.
The aspirant further faulted the decision of the officer to accredit the former Chairman of Kaura Local Government, Mr Kumai Badu, and his Vice, Mallam Kanyim, to vote.
"The duo should not have voted because they had been dissolved; the guideline gave the vote to the offices of the chairman and vice chairman, but the officers were no more in those offices.
"Interestingly, the same officer had told the accredited delegates that the directive from the PDP secretariat was that the former officials will not vote, only to later contradict himself.
"From all my checks, there is no constituency in which their colleagues voted; so my humble submission is that their votes are illegal and only helped to rubbish the exercise," Mugu declared.
The aspirant, while pledging his loyalty to the PDP, prayed the appellate committee to cancel the election and order for a fresh exercise, to give all aspirants a fair hearing and boost the fortunes of the party.
Load more