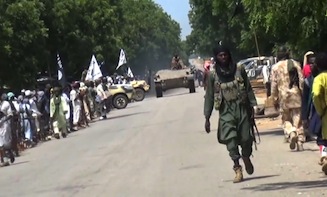 Damaturu, capital of Yobe state is under fierce attack by suspected Boko Haram fighters who according to eyewitnesses and fleeing residents, may have surrounded the town. The explosions were said to be targeted at the police and residents.
Explosions and gunshots are heard in some parts of Damaturu as at the time of filing this report. An eyewitness claimed that the attack began around 6:00 a.m. on Monday, 1 December.
The sound of blasts and heavy weapons being fired woke locals in the Gujba Road area of the Yobe state capital at about 4:45 a.m., said Umar Sada, who lives in the area.
"We have left our homes. We are now in the bush. We don't know what's going to happen," said Sada, who said a police barracks had been destroyed.
"We are in serious confusion now, we are just hearing gunshots and explosions on the southern part of the city and people are fleeing", said another embattled resident, Malam Abdulmalik.
An official of the SSS in Maiduguri has confirmed the attack on Damaturu.
More to follow…
Load more