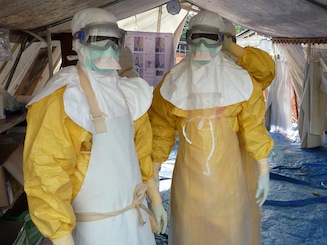 The Federal Ministry of Health (FMoH) on Monday began training volunteers to be sent to help to contain the Ebola Virus Disease (EVD) in Liberia, Sierra Leone and Guinea.
The Permanent Secretary of FMoH, Mr Linus Awute, made the disclosure at the opening of The Ebola Containment Training in Lagos.
Awute, represented by Prof. Abdulsalami Nasidi, Director, Nigeria Centre for Disease Control (NCDC), said that there were 504 volunteers.
Nasidi said the first batch of the trainees were 250 people drawn from all over the country, adding that almost 98 per cent of them participated in containing the EVD in Nigeria.
"They are mostly from Lagos and Rivers states. In addition, Lagos is contributing 28 doctors who are not part of the training to join in the containment," he said.
Awute said the first ever EVD in West Africa started in Guinea and was first reported to the World Health Organisation (WHO) in March 2014. "Since then, the outbreak has spread to Liberia, Sierre Leone, Nigeria and Senegal.
"This current outbreak attributed to EV Zaire strain is the most extensive outbreak of Ebola, affecting multiple countries, including Nigeria. The total case counts and deaths are well beyond the cumulative total of all cases from previous known outbreaks, since its discovery in 1976".
He noted that a confirmed outbreak of EVD was declared in Nigeria on July 22. "An effective multi-sectorial response was mobilised to contain the outbreak. The nation is now without a case of EVD and has been declared free by WHO on Oct. 20.
"Liberia, Sierra Leone and Guinea still harbour this deadly disease along the West African Coast. In view of this, all the ECOWAS countries are still at risk since our borders are not restricted and WHO has not announced closure of borders.
"These Ebola infected countries are our neighbors and we need to assist them so that the coast can be free of the disease," he said.
He commended the health workers for having shown the spirit of togetherness by making up their minds to assist our neighbouring countries. Awute tasked the volunteers to be law abiding and diligent in their duties.
"The Federal Government is solidly behind you and we have made arrangements for your insurance in case of any eventuality. The Nigerian government and African Union have guaranteed that all volunteers will be paid their full allowances in dollars. In addition, life insurance will be provided incase of disability, injury and possible deaths," he said.
"We will also make our isolation centre active throughout your stay outside the country. The government has declared that we are providing our treatment centre for any Nigerian or volunteer from any country to be flown into Nigeria at Lagos, Port Harcourt and Abuja," he said.
Also, Dr Jide Idris, the Lagos State Commissioner for Health, said that the country was still vulnerable. He said that the state government had decided not to disband the structure on Ebola but would always build upon it.
"We will continue public enlightenment and Nigeria must continue this effort to contain Ebola worldwide because we still stand the risk. You are our ambassadors, so do well. You must adhere to stipulated standard guidelines," Idris said.
Dr Tamuno Parker, the Rivers Commissioner for Health, said: "We have established what should be good standards in the management of public health challenges.
"If we apply the practices and strategy used in containing EVD in Lagos and Rivers, we should be able to eradicate EVD in the region. The Rivers State Government is also supporting with 5,000 Personal Protective Equipments (PPEs) to be worn by the volunteers.
"We can't say we have contained and controlled the war against EVD in Nigeria if these countries around us are still being ravaged by EVD. We wish you safe arrival back," he said.
Load more