MADUABUCHI NMERIBEH/Kano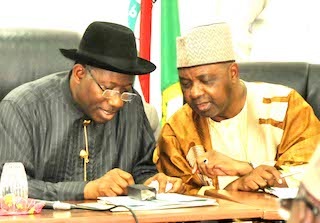 Nigeria's Federal Government on Monday exonerated itself from sponsorship of Boko Haram and other violent crimes disturbing economic, political and ethno-religious co-existence of the people of that country.
President Goodluck Jonathan spoke through his Vice, Namadi Sambo who led a Federal Government delegation to commiserate with the government of Kano state, Emir of Kano, Muhammad Sanusi 11 and the good people of Kano state over last Friday's deadly attack on the ancient city's central Mosque located at the ear of the Emir Palace.
Scores of Muslim faithful lost their lives in the triple explosions that also left many wounded.
Vice President Namadi Sambo told Governor Rabi'u Musa Kwankwaso that, "I am here on behalf of His Excellency, Dr. Goodluck Ebele Jonathan, the President of Federal Government, to extend his sincere condolence to you and the good people of Kano state over what happened during the terrorists attack on Friday in the Kano Mosque has come to us as another shock; but Insha Allah, these evil terrorists will be defeated. We will continue to do everything to work with the government and people of Kano state to ensure that we defeat these terrorists not only in Kano state but in Nigeria in general.
"Therefore, we are sending our sincere condolences also on behalf of all Nigerians; and may Allah grant those that lost their lives eternal rest. To those also that got wounded, we wish them to get well and already we are working with the officials of the state emergency agency and NEMA, I am pleased to inform you that already, approval has been granted to Director-General to give all the support that is necessary to all those that have
been affected. Already, I have been fully briefed that the we have supplied a large quantity of blood from the blood bank in Kaduna and Katsina and various other arrangement to support your effort on the medication of those that are in the hospitals as well as other victims.
"I will seize this singular opportunity, Your Excellency to call on all Nigerians to be our brothers keepers, to be security-conscious and to continue to cooperate with the security agencies so that we will be able to achieve our noble objectives in bringing back peace, tranquility and development in our dear country. Politics should not be part of this business; and I must also seize this opportunity to call on those that have been spreading mischievous rumours all over that it is the government that is involved.
"I want to say it categorically clear that the government is not a party to this and the government is doing everything to arrest this terrorist act; the government is doing everything to ensure that we go back to peace and with this insinuation, I want to draw our attention to the fact that the security operators of this country is headed by Muslims. The National Security Adviser (NSA) of this country is a Muslim, Col. Sambo Dasuki, he is from Sokoto and he is from a Royal House. The Minister of Defence, General Aliyu Gusau is from Zamfara state and he is a Muslim. The Inspector-General of Police, Suleiman Abba is Jigawa state and he is a Muslim. Myself as the Vice President, I am a Muslim from Kaduna state; I am from Zaria in Kaduna state.
"These high position people that are Muslims shows that with this responsibility by President Jonathan, the President cannot be a party to people that can perpetrate this heinous act against their Muslim brothers or even the Christian brothers. Only last Monday, we had a National Conference where the Sultan of Sokoto and the President of CAN were in attendance with all the Special Advisers to Governors in all the states of the Federation and the FCT—where we were discussing efforts being made for continued peace in this country. I want to thank the good people of Kano, the government of Kano state and Your Excellency for all of us to continue to cooperate and ensure that we defeat the menace of Boko Haram. Our condolences again, Your Excellency. Thank You and God bless you," he concluded.
Responding, Governor Kwankwaso said:
"Let me on behalf of government and the good people of Kano state welcome Your Excellency, the Vice President to Kano, especially that he is here to commiserate and condole us on our brothers and sisters who either lost or were wounded on Friday. Vice President, we thank you for finding time to come; and we also thank the President for requesting or directing you to come to this mission.
"I am happy we have been to the Mosque, you have seen what has happened on Friday; and we will continue to pray for those who lost their lives and for those who are in the hospitals, the state government will continue to settle their bills.
"Let me put it on record that members of security agencies in this state are working around the clock to save lives and properties and I am also happy to say that there is synergy between them because they are working as a family—not only between themselves, they are also working together with the state government, the Emirate Council and all other stakeholders.
"We will continue to work together to protect our people; and let me also appeal to the good people of Kano state to continue to partner with security agencies and the state government so that we can continue to defend or protect our people against all these unwanted attacks.
"Your Excellency, Mr. Vice President, let me also on behalf of the good people of Kano state, through you, to appeal to the Federal Government to continue to support our security agencies so that they can perform effectively. I am sure they will require arms and ammunitions; they will require kitting; they will require welfare—all these put together and the political will, by the grace of God we should be able to defeat the enemies, either insurgents, armed robbers and so on and so forth."
Emir of Kano, Muhammad Sanusi II, on his part, called on the Federal Government to fish out the perpetrators by investigating and making sure they are punished at the end of the day, adding that, the people of Kano have faith in Allah no matter whatever the calamity that befell them.
He also called on the people desist from spreading dangerous rumours and urged them to always complement the efforts of security agencies in the state.
"Our believe is that a situation like Kano mosque attack requires thorough investigation, why it happened? Who are responsible? And how to protect future occurrence?" he maintained, adding that those who were affected are his subjects and children who had come to pray to the almighty Allah to save this country from crises.
"May God reveal the perpetrators and may them be punished," Sanusi prayed.
Namadi Sambo who came in company of Inspector-General of Police, Suleiman Abba, Minister of Foreign Affairs, Aminu Wali and other top government officials, apart from Kano Government House and the Emir's Palace also visited hospitals where the wounded were receiving treatment.
Load more