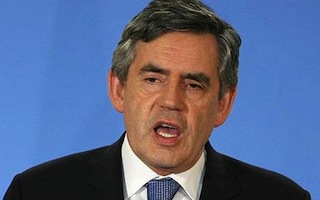 Britain's former prime minister Gordon Brown, who waited patiently for the top job only to be voted out after three years, said Monday he was stepping down from parliament after three decades.
The 63-year-old, who was ousted in 2010, had briefly returned to the political spotlight this year to help snatch victory for the "No" camp in Scotland's historic independence referendum.
But he confirmed Monday he would not be standing again in next May's general election as a lawmaker for the centre-left Labour party, bringing the curtain down on his stormy Westminster career.
"I'm in no doubt it's the right thing to do," he said in an address in his constituency in Kirkcaldy in Scotland, speaking in the same church where his father was a minister.
Brown said he would not be returning to the Westminster parliament in any capacity, but would work as the United Nations special envoy for global education from Fife in Scotland, a position he has held since 2012.
However, he would do everything possible in the run up to the May 2015 general election to ensure "the election of Ed Miliband as prime minister under a Labour government".
Miliband in turn thanked Brown for what he called an "outstanding" career in parliament.
"He is a towering figure in British politics because, for a generation, he helped make the political weather and change our country," Miliband wrote on Twitter.
Brown will be remembered as one of Britain's shortest-serving prime ministers — only three residents of 10 Downing Street since 1900 were in power for less time.
David Cameron also gave tribute to his predecessor as prime minister, saying "Gordon has given a huge amount in terms of public service and his contribution in government and in parliament".
– Bitter feud –
Brown was also at the centre of one of the bitterest feuds in contemporary politics.
Following a 1994 deal with Tony Blair known as the "Granita Pact" after a north London restaurant where it was allegedly sealed, Brown stepped aside to let him become Labour leader.
According to Brown's account of the deal, Blair also pledged to stand aside to allow Brown to become leader at some stage.
In 1997, Blair was elected prime minister and Brown became his finance minister, earning the nickname of "Iron Chancellor" due to his claim to have ended the British economy's cycles of boom and bust.
Tensions with Blair soon began to show, though, as Brown pushed him for a date when he could take over as prime minister. The relationship between the once close friends descended into furious arguments and stony silences known as the "TB-GBs".
Blair later wrote in his memoirs that Brown had "zero" emotional intelligence and that his premiership "was never going to work".
But Blair did stand down in 2007 and made way for Brown, whose term in office was dominated by the aftermath of the 2008 financial crisis.
Despite playing a key role in the global response to the crisis — Nobel laureate Paul Krugman even wondered if he had "saved the world financial system" — Brown was deeply unpopular at home.
He faced a wave of challenges to his leadership from discontented lawmakers while his stiff and awkward manner jarred with British voters.
His presentational problems came to a head when he was caught on mic calling an elderly Labour voter a "bigoted woman" while campaigning for the 2010 general election.
Two weeks later, Brown was voted out of office.
He retreated to his home in Fife, north of Edinburgh, to write and campaign on educational issues, including championing Pakistan's schoolgirl Nobel Prize winner, Malala Yousafzai.
In August this year, a passionate, energetic Brown re-emerged to take a lead role in the failing campaign against Scottish independence ahead of a referendum in September.
Commentators, including some historic foes in Britain's tabloid press, credited him with keeping the United Kingdom together and gave him the nickname "Flash Gordon".
Load more