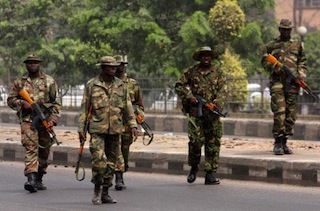 Nigerian security forces have succeeded in pushing suspected Boko Haram insurgents out of the Yobe state capital of Damaturu in the northeast on Monday after a dawn raid by the militants, a spokesman for the state governor said.
According to civilian vigilantes in the city, more than 40 Boko Haram fighters were killed. They did not however disclose the number of casualties from the military or civilian vigilante.
Their claim could not be independently verified by the Nigerian security forces. "The governor has condemned the attack as heinous and barbaric. He has also expressed appreciation to the security forces who worked very hard on the ground and from the air … As a result of their effort, Damaturu remains firmly under government control," the spokesman, Abdullahi Bego said in an emailed statement on behalf of Governor Ibrahim Gaidam.
In Damaturu, residents in the Gujba Road area of the city were jolted out of bed by the sound of gunshots and explosions at about 4:45 am (0345 GMT) and many fled.
"The gunmen came in numbers. They have burnt down the police barracks…. We have left our home. We are now in the bush. We don't know what's going to happen," said one local, Umar Sada.
The Yobe state police commissioner, Marcus Danladi, described the attack as a "serious situation". Civilian vigilantes in the city claimed that more than 40 Boko Haram fighters were killed.
Others described the scene as "chaos" as shells fell in the federal polytechnic compound and fierce fighting raged near detention facilities where Boko Haram suspects were being held.

Load more