Abiodun Onafuye/Abeokuta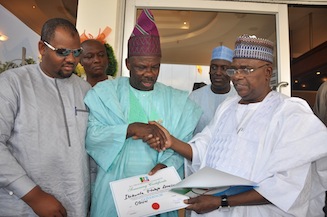 Governor Ibikumle Amosun of Ogun state, Southwest, Nigeria has been cleared as the All Progressives Congress (APC) candidate for next year's governorship election.
The National Screening Committee for Governorship Aspirants (South West) of the APC cleared him yesterday.
The Chairman of the Screening Committee, who is also a former governor of Gombe state, Senator Danjuma Goje, revealed that Ogun is the only state that has one candidate in the Southwest, as at the end of sale of forms and the screening exercise.
He presented the screening certificate to the governor in Lagos amid jubilation.
Goje commended the governor for his strides since assuming the saddle of leadership in the Gateway State, saying that the governor has been screened and cleared.
According to him, "We have just concluded screening and sale of forms. Governor Amosun is the only candidate from Ogun state. I want to commend him for the good works he is doing for our party, the good people of the state and his various strides since he assumed office. God will help our party come 2015 to effect the needed change in this country," Goje said.
In his response, Amosun commended the party leadership for the set of experienced statesmen who made up the Screening Committee, pointing out that, he alongside his colleagues, would still fly the flag of APC in Ogun.
Amosun stated that the party's manifesto, which is development-oriented is paramount to the present administration in the Gateway State.
The governor expressed optimism that APC will be victorious in the Presidential election, and would thereby extend development to the length and breadth of the country.
He said his government is committed to the party's programme, which is development that cuts across every facet of human life including employment generation, urban renewal, qualitative education, among others. "APC will truly make the difference in Nigeria and will be victorious in the Presidential election," Amosun posited.

Load more