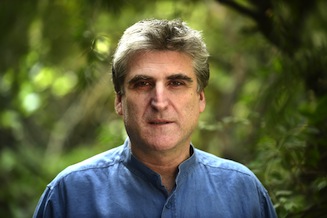 A Bangladesh court on Tuesday found an award-winning British journalist guilty of contempt for questioning the official death toll of three million in the country's 1971 independence war.
Judges from a special war crimes court ruled David Bergman's blog in November 2011 had "hurt the feelings of the nation" and ordered him to pay a 5,000-taka ($65) fine or go to prison for seven days.
"Bergman has been found guilty of contempt of court. He is fined 5,000 taka or seven days imprisonment if he fails to pay the fine. And he is imprisoned until the rise of the court today," prosecutor Tureen Afroz told AFP.
The case was seen as a test of the country's commitment to free speech after Bergman cast doubt on the official version of one of the most contentious issues in Bangladesh's short history.
The judges said Bergman was unprofessional when he commented on the work of the International Crimes Tribunal, the domestic war court, which has found several top opposition leaders guilty of mass murder over their role in the conflict.
Prime Minister Sheikh Hasina has justified the war crimes trials on the grounds that the scale of the bloodshed demands that perpetrators be brought to justice.
Most of the deaths have been blamed on troops loyal to the regime in Islamabad, which ruled over Bangladesh — then known as East Pakistan.
Related News
But Hasina's government says Bangladeshi militants were behind some of the most brutal killings, including the massacre of intellectuals.
Most independent estimates say the actual toll would be hundreds of thousands.
Critics say her government has deliberately exaggerated the number of people killed as a way of intimidating her opponents and of countering unease from abroad about a process that lacks any international oversight.
Lawyer Abul Kalam Azad who filed the petition against Bergman told AFP the judgement was "fair and right".
"No one has the right to question the three million death toll in the 1971 independence war. It is a settled issue," he added.
Bergman's lawyers have argued that his blog posts were "accurate, fair, and logical" and his comments about the court "fell well within the permitted limits of fair criticism".