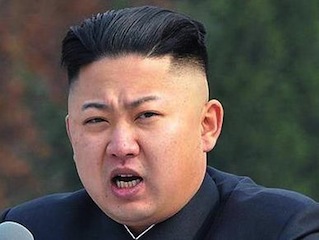 China will not step in to save neighbouring North Korea if the Pyongyang regime collapses or starts a war, a retired People's Liberation Army general said, possibly signalling waning patience in Beijing with its wayward, nuclear-armed ally.
"China is not a saviour," Wang Hongguang, formerly deputy commander of the Nanjing military region, wrote in the Global Times newspaper, which is close to the Chinese Communist Party.
"Should North Korea really collapse, not even China can save it," he said.
Wang's comments came in a contribution to the nationalist tabloid's Chinese-language website.
The outspoken Wang has made critical comments about North Korea before and it was not clear whether his words indicated a policy shift regarding Pyongyang.
China has long been the isolated North's key ally and aid provider.
Beijing came to the fledgling country's aid during the 1950-53 Korean War, when its intervention against US-led United Nations forces defending South Korea helped seal an eventual stalemate that has lasted to this day.
China's role has grown as the North's economy has shrunk in the wake of the collapse of the Soviet Union almost a quarter of a century ago, with which Pyongyang had close trade and aid ties.
But over the same period Beijing has moved to develop diplomatic relations and booming trade ties with Seoul, Pyongyang's bitter rival. Chinese President Xi Jinping and South Korean President Park Geun-Hye have exchanged visits, while Xi and North Korean leader Kim Jong-Un have so far kept their distance.
Wang said China would not get involved in any new war on the Korean peninsula.
"China cannot influence the situation on the Korean peninsula," he wrote.
"China has no need to light a fire and get burnt," he added. "Whoever provokes a conflagration bears responsibility.
"Now there is no more 'socialist camp'. It is not necessary for China's younger generation to fight a war for another country," he wrote in the comments, published Monday.
Wang criticised the North for its nuclear development, using it as an example of how its interests can differ from China's and saying it had "already brought about the serious threat of nuclear contamination in China's border area".
But he also slammed Western countries for what he described as "demonising" North Korea and interfering in its internal affairs in the name of human rights.
"China absolutely does not meddle," he wrote.
Beijing will "support what should be supported and oppose what should be opposed" regarding the North, he said, indicating China was not ready to completely give up on its troublesome neighbour.
China will neither "court" nor "abandon" North Korea, he wrote. "This should be China's basic attitude."
Load more