Damilare Okunola/Abuja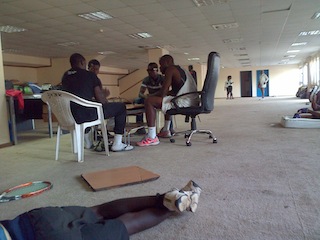 P.M. News Sports can report that tennis players at the ongoing Nigeria Ports Authority, NPA Tennis Open resorted to gambling after losing their preliminary and first round matches.
The players, who were switching positions, used the players' lounge as their base and caused all sorts of nuisance in the course of the betting game which they used playing cards to prosecute.
One player, identified as Kayode, had to borrow money on numerous occasions as he was not lucky enough to win while the betting was going on.
Virtually all the players were involved in the act as there was nobody was on ground to caution them on their despicable behaviour. Even the top players were involved in the betting game as they also tried to consolidate on their wins in the tournament.
"Bros, how we go do na? If we do not win, we have to make our money from this same place. We are not strong enough to win even our preliminary matches, so we had to make some money somehow," one of the players who pleaded anonymity told our correspondent.
But their act was condemned by another player, who believes that whether they had won or not, they would still have engaged in gambling as a means of survival.
He said: "Many of those guys are addicted to gambling, so it does not matter if they said that they are doing it because they lost out in the early stages of the Championship.
"I came from Lagos and I also lost but I just cannot imagine myself gambling. And even if I have any reason to do so, I would not have engaged in the such an act in the open this way. Very derogatory way of doing things if you ask me."
The NPA Tennis Open is expected to end on Saturday, 6 December while the players' departure is slated for Sunday, 7 December.
Load more