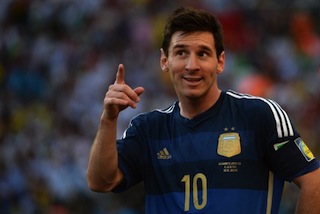 A top North Korean football official said she wants megastar Lionel Messi to visit a new football academy in the communist state, where the Barcelona wonder is a huge hit with kids.
Han Un-Gyong, a member of the Asian Football Confederation's (AFC) executive committee, said children at the Pyongyang International Football School were avid fans of the Argentine.
"I want to invite him, because our children love him," Han said during an AFC gathering in the Philippine capital Manila.
"When I go to the Pyongyang international school, I ask them who do you think is the best player. They say: "Ah, we love Messi!" Even the girls," she added.
"They read books about Messi and watch his games through the Internet. They can see all the games, China, Europe and everything at our Pyongyang International School. They can watch any football.
"They love football, that's why they know all the players' names and everything."
Football's biggest stars frequently make trips to fast-growing Asia, but a visit by Messi, nominated for a fifth world player of the year award, to secretive North Korea would cause a stir.
"Lots of students love Messi, because Messi's a very honest man. He loves children," said Han.
She said the academy is the brainchild of sports-mad supreme leader Kim Jong-Un, who also likes basketball and has previously hosted ex-NBA player Dennis Rodman in Pyongyang.
– Musk deer glands –
About 200 boys and girls aged nine, 10 and 11 train at the new facility, which opened this year and gathers North Korea's most promising football talent.
"They're selected from all over the country. Our FA (football association) goes to all the provinces and chooses them," said Han.
"We have a lot of matches at weekends, we see them and choose the best. But if we see they're not developing, we send them back and choose another one."
Han said it may be five years before North Korea's senior sides start reaping the benefits of the academy. North Korea's men reached the 2010 World Cup and they will contest the Asian Cup in January.
North Korea are banned from next year's Women's World Cup after five players failed drugs tests at the 2011 edition — a result they said came from taking traditional medicine, containing musk deer glands, to treat lightning strikes.
But Han is expecting that North Korea's women, three-time champions of Asia, will burst back on the scene when they are next eligible for the World Cup in 2019.
"They're so good. It's a great generation. Also the under-17s are very good," she said.
North Korea, without a professional league and with no club teams competing in regional contests, are currently ranked 135th in the world ahead of their Asian Cup opener against Uzbekistan on January 10.
Forays onto the big stage include the 1966 World Cup, when they stunned Italy to reach the quarter-finals, and an infamous World Cup qualifier in 2005 against Iran in Pyongyang, which ended in a riot.
But North Korea will be buoyed by their feat in reaching the Asian Games final in October, where they narrowly lost 1-0 to cross-border rivals South Korea — with whom they are technically still at war.
Load more