Damilare Okunola/ Abuja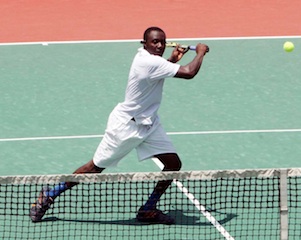 Nigeria's top ranked male tennis players, Abdulmumuni Babalola and Lawal Shehu were dumped out in the first major upsets recorded in the first round of matches decided today at the Nigeria Ports Authority, NPA National Tennis open, taking place at Package B arena of the National Stadium, Abuja.
Emmanuel Idoko defeated Abdulmumuni Babalola, 5-7, 7-6 (4), 6-2 in an entertaining encounter while Men's Singles winner at the 14th Governor's Cup Lagos Tennis Championship, made a remarkable comeback from 2-5 down in the final set to defeat another veteran, Lawal Shehu, 3-6, 6-4, 7-5.
Sylvester Emmanuel beat Jonathan Okwudili, 6-0, 6-0, while Clifford Enosoregbe outplayed Albert Bikom, 6-3, 6-3. Sunday Emmanuel proved too strong for Tswako Abubakar, beating him 6-2, 4-6, 6-1 just as Nonso Madueke overpowered Chinedu Akagha 6-0, 6-3.
In other results, Etim Ekanem outsmarted Mohammed Mohammed, 7-5, 6-4 and John Otu proved a match winner in his 7-6(6), 6-2 win over Musa Bala.
In the Women's Singles, number one seed, Sarah Adegoke wasted many chances to wrap up the game but still won against Ngozi Dirisu, 6-3, 6-0 and another top seed, Christie Agugbom walloped Afolarin Akosile, 6-1, 6-2.
As at the time of filing this report, the doubles and some other singles matches were still being played on the courts.
Defeated Babalola noted that tennis is often like that, "you do not win all the time and I guess it's high time the youngsters started doing something more interesting".
He also added that, "it is still a shame that people like us are still defeating the youngsters because I had started defeating the senior players as a youngster. The loss was not too bad, though, I will still play my doubles match".
In his own words, Michael expressed his displeasure at the outcome of his match despite the win. "I do not like it but that is what keeps happening, even in the Governor's Cup. I am happy that I won, but I really cannot explain why I always have to make a come back in matches of high importance.
"I have apologised to my coach for playing the way I did and he rebuked me for not moving very well on the courts. I hope to work on this weakness and strive hard not to concede first next time."
Meanwhile, action resumes tomorrow inside the stadium as the other matches in the first round would be decided as the tournament enters the more interesting stage.

Load more