Cyriacus Izuekwe
The police in Lagos have shut the house where kidnappers kept their victims until a ransom was paid on them in Isheri Oshun area of Lagos State, western Nigeria.
According to the residents, the landlord of the house who allegedly harboured the suspects, has also fled and after one the victims was rescued and some of the suspected kidnappers were arrested by the police recently.
The house located at 18, Odeniyi Ishola Street, off Bola Road, Isheri Oshun, was shut after the police raided the place and rescued one of the kidnapped victims, Alhaji Fashola Hammed.
The  building was locked by the police when our correspondent visited the house at Isheri Oshun on Monday.
The occupants of the two-bedroom flat Kelvin Igah and his wife, Ogechi and Kelvin's younger brother, Victor Igah, were arrested there.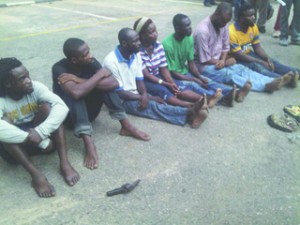 The couple who lived there with their three children  kept the victims whose hands and legs were chained in the toilet.
The victims' mouths were also covered and opened only when they were to be fed.
Residents of the area din't know a kidnappers' den was in the area until operatives of State Anti-Robbery Squad, SARS,  raided the house following a tip off and rescued one of the victims.
The suspects were paraded last week by the Lagos State Commissioner of Police, Mr Kayode Aderanti, at the State Police Command Ikeja, Lagos.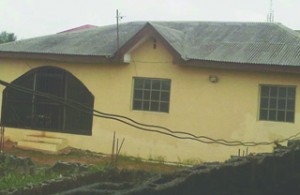 The suspects confessed to committing the crime and said their role was to keep the victims and take care of them until ransom was paid.
Kelvin admitted that it was there his gang kept two oil magnates, Chief Idowu Coker and Alhaji Fashola Hammed.
He said Coker later paid N20 million and regained his freedom and promised to pay the balance of N10 million before they were arrested.
In the case of Hammed, he was still chained in the toilet and the kidnappers demanded N50 million which was yet to be paid before the police arrested them.
Other members of the gang are now at large.

Load more