Funsho Balogun/Abuja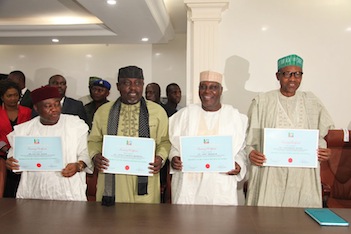 At about 10:00 a.m. on Wednesday morning, Major General Muhammadu Buhari, Atiku Abubakar, Sam Nda Isaiah and Governor Rochas Okorocha all APC presidential aspirants, entered the conference room at the party's headquarters in Abuja to receive their certificates, having scaled the hurdle of a thorough screening yesterday.
Senator Olorunimbe Mamora, Alhaji Lai Mohammed, Senator Bukola Saraki, Babalola Aborisade Dr Tunji Abayomi, and Ambassador Bala Abubakar were also present at the certificate presentation.
Ogbonaya Onu, Chairman of the Presidential screening committee presided over proceedings at the occasion of the certificate presentation. He described the APC as a giant born to stop Nigeria's drift since the past 16 years, and that the main opposition party is prepared to give leadership with standards surpassing the incompetence of the ruling party.
Ogbonaya said all the contestants are quite distinguished and have the capacity to deliver excellent leadership. "We took the aspirants through a rigorous path yesterday, testing their understanding of Nigeria's problems," he said.
The screening Committee Chairman also stated that he was so pleased with the quality of the aspirants that he went to bed early yesterday, sleeping like a baby. Ogbonaya was impressed with the score of the aspirants after the screening exercise which stood at 78, 77, 75, 70 and 66 per cent respectively.
Ogbonaya said Nigerians judge the ruling party by their dismal records and that the time is ripe for the voters to opt for the APC so that all their problems and that of the country is solved. All the five aspirants signed letters of commitment that they would be running to bring peace and happiness to Nigerians.
The aspirants all agreed that they will support whoever emerges and collapse their machinery to support the course of APC winning the election. The candidates affirmed that they will not decamp if not chosen to run eventually through the letter of commitment signed.
General Buhari was first to receive his certificate, followed by Atiku Abubakar, Rochas Okorocha and Sam Nda Isaiah. Rabiu Kwakwanso arrived at the premises at 10:40 a.m. after the certificate receiving presentation exercise had been concluded.
The lot fell on buhari to deliver the closing remarks on behalf of other candidates.
Load more