Jethro Ibileke/Benin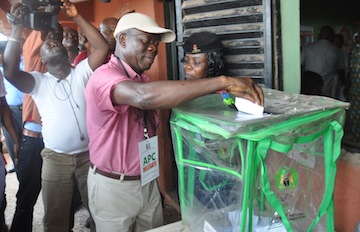 As the All Progressives Congress (APC), conducted its state assembly primary elections nationwide, Governor Adams Oshiomhole of Edo state explained that election riggers do not fit into the "Change" slogan of the All Progressives Congress and will be excused from the party.
The governor who spoke after casting his ballot as a delegate at the Azama Primary School, Jattu, during the primary election in the state, describing it as peaceful and transparent. He however warned that if anyone was not comfortable with the transparent and peaceful primaries and still prefers the old methods of ballot box snatching, such persons can be excused from the ranks of the APC.
"I will be surprised if anybody who had participated in this transparent election decides to leave simply because he didn't win. If such people want to leave, we will escort them out because it means they cannot fit into the logic and philosophy of 'Change.'
"The 'Change' we talk about is not just to change and replace the Federal Government of PDP, we also want to change the habit, the language of our political design and practice whereby people use guns rather than ballot papers," he said.
Expressing satisfaction with the primaries, the governor went further to say that "everybody is smiling because they all know that whatever happens, only one person is going to emerge and because this is a party affair, there is really no loser. All the candidates are APC candidates. The winner will be the APC candidate, so there are no losers if we believe in the principles of intra-party democracy.
"The beautiful thing here is that as the Governor of the state, this is my own constituency, this is my own ward and I didn't have to call people to step down for one particular person to emerge because I think that if a man cannot win a primary election on his own, then how can he expect to win a popular election and if I decree and use or misuse my office to impose somebody at the level of the primaries, during the popular election in February, will I have the power to impose that person on the electorate?
"So I am very happy that people have turned out and I am even more happy that the place is peaceful. Nobody is shouting, nobody is fighting and the aspirants themselves are all seated together as brothers and sisters. It cannot be better than this and for me, when we begin to realize that the votes count, then our democracy is on."
While stressing that the Party has no pre-endorsed candidate, Oshiomhole said "As you can see, I have only one vote. I was reluctant to cast it so that I can't be accused of voting for one person but I also realize that even as a governor, though my voting shows that there is somebody I want to vote for, but I cannot order the rest not to contest nor can I ask everybody to vote for that person. So all of these are small lessons if we imbibe them, our democracy will grow from strength to strength."
He therefore advised all the aspirants to take the outcome of the primaries in good faith and join hands with the winners to ensure victory for the APC in the 2015 General Elections.
Load more