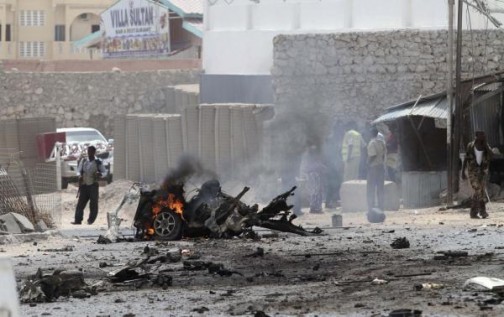 No fewer than four persons were killed in Somalia's capital Mogadishu on Wednesday when a suicide bomber rammed a car packed with explosives into a UN convoy, police said.
The convoy of armoured vehicles were reportedly ferrying staff between Mogadishu's heavily-fortified airport and a protected UN base in the city when it was hit close to the airport gate.
The attack was not immediately claimed, but both the airport and the UN mission have been frequently targeted in the past by Somalia's Al-Qaeda-affiliated Shebab rebels, who are fighting to overthrow the country's internationally-backed government.
"The bomber drove in between the security escort and the UN armoured vehicles and detonated the car, ramming into one of the escort vehicles," police officer Mohamed Liban told AFP.
UN convoys are systematically flanked by pickup trucks carrying private security officers who provide protection for international staff.
"I saw four dead people so far, but the casualties are believed to be more, we are still investigating the incident and there is chaos in the area," Liban added.
A dark plume of smoke was seen rising high in the sky after the large blast, which was heard across the seaside capital.
Witnesses said the UN convoy consisted of four armoured vehicles escorted by private security personnel driving in pick ups.
"The explosion was very big and there is smoke all around the area, I can hardly see people lying on the ground, either dead or wounded, but it is difficult to go nearby as police are blocking the road," said Shamso Idle, a local resident.
The attack appeared to be a repeat of a Shebab operation in February, when six people — Somali guards, passers-by and shop owners — were killed in a suicide attack on a convoy carrying UN staff near the airport.
A number of foreign diplomatic missions are based inside the huge airport complex, which has also been used to house a number of UN staff since a city-centre UN compound was attacked by the Shebab last year.
The airport zone is also the base of the 22,000-strong African Union force fighting the Shebab.
Shebab fighters once controlled most of southern and central Somalia, but have been driven out of fixed positions in Mogadishu and most major towns by the AU force.
Shebab leader Ahmed Abdi Godane was killed by a US air strike in September. He has since been replaced by Ahmad Umar Abu Ubaidah.
The group have carried out a string of high profile attacks in Mogadishu this year, including against the presidency, parliament and intelligence headquarters.
Shootings and car bombings are also a regular occurrence in the city.
The Shebab have also stepped up operations in Kenya, and on Tuesday massacred 36 non-Muslim quarry workers in a Kenyan border town.

Load more