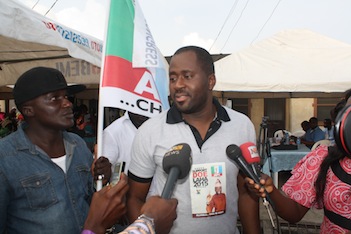 Chief Henry Ajomale, Chairman, Lagos State Chapter of the All Progressives Congress (APC), on Tuesday said the party's State House of Assembly primaries were concluded in 39 out of the 40 constituencies.
Ajomale told newsmen in Ikeja that the election did not hold in Kosofe Constituency 2.
He said that primary election would hold in the area today 3 December.
"The exercise was a huge success. Out of the 40 constituencies where the primary was held, 39 were cleared.
"It is only one we have problem with out of 40, but today we will conduct primary at the constituency," he said.
He advised aspirants who lost to accept defeat in good faith.
Ajomale commended security operatives, saying the exercise wouldn't have been a success without them.
"I commend the security operatives, they did a good job, they were able to keep touts at bay," he said.
He also commended party members for being orderly and peaceful during the exercise.
The primaries, which started in some constituencies before noon, were peaceful in several areas monitored.
They also recorded massive turnout of delegates.
For five members of the Lagos State House of Assembly, their aspiration to return to the Assembly on the platform of the All Progressives Congress (APC) hit the rock on Tuesday, when they were defeated in the primary organised by the party to pick its state Assembly candidates.
In Surulere Constituency 01, the incumbent, Kabiru Lawal was said to have stepped down for Nollywood Actor, Desmond Elliot.
Omowunmi Olatunji-Edet, Oshodi-Isolo 2; Ramota Akinola-Hassan, Amuwo Odofin 2; Bashiru Oloto, Lagos Mainland 2; Kabir Lawal, Surulere 1; and Ahmed Ipoola Omisore, Ifako Iajye 2; all lost in the primary.
In the case of Edet, she was beaten by Ladi Ajomale, son of the state chairman of APC, Henry Oladele Ajomale.
It was a landslide victory as Ajomale's son polled a whopping 250 votes; Moroof Ojoola polled mere 58 votes while Edet could only muster a paltry 37 votes.
The story was more pathetic for Omisore.
He could only muster four (4) delegate votes.
The ticket in the Ifako-Ijaye Constituency 2 was won by newcomer Rasheed Makinde who polled 103 votes to push former chairman of Ojokoro Local Council Development Area (LCDA), Olabinjo to the second place with 93 votes.
In Amuwo Odofin Constituency 2, incumbent Ramota Akinola-Hassan was beaten by another newcomer, Wale Raufu while in Lagos Mainland Constituency 2, immediate past chairman of the local government, Oladele Adekanye a.k.a. Lado defeated incumbent Bashiru Oloto just as Nollywood actor, Desmond Elliot beat incumbent Kabir Lawal in Surulere Constituency 1.
Lagos Deputy Speaker, Kolawole Musbau Taiwo, Ajeromi-Ifelodun Constituency 1; his counterpart in Constituency 2, Abdul Baq Ladi Balogun; Mudasiru Obasa, Agege Constituency 1; his counterpart in Constituency 2, Yinka Ogundimu; Bisi Yusuf, Alimoso Constituency 1; Sikiru Osinowo a.k.a. Pepper, Kosofe Constituency 1; Princess Adefunmilayo Tejuoso, Mushin Constituency 1; Dayo Saka Fafunmi, Ifako-Ijaye Constituency 1; Lanre Ogunyemi, Ojo Constituency 2; his counterpart in Constituency 1, Muhibat Rufai-Adeyemi and Moshood Lanre Oshun, Lagos Mainland Constituency 1 all won at the primary for a return to the Assembly.
There was a stalemate in Kosofe Constituency 2 and a rerun has been for tomorrow, Wednesday, 3rd December, 2014.
In Oshodi Isolo Constituency 1, where the incumbent is not running, former Executive Secretary of Agege Local Government, Stephen Ogundipe won the primary.
Load more