Abiodun Onafuye/Abeokuta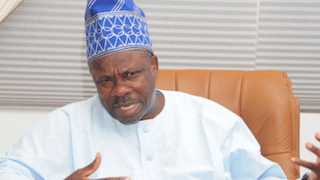 Speaker of the Ogun State House Assembly, Surajudeen Ishola Adekunbi, his deputy, Tola Banjo, Majority Leader, Israel Jolaoso and 10 others were today returned unopposed to the House for another term.
The 13 lawmakers are those believed to be loyal to the governor, Ibikunle Amosun, who according to the governor are his stabilising factor in the House.
All the thirteen members are to contest the State House of Assembly election on the platform of the All Progressives Congress (APC) in February, 2015.
At Yewa North State constituency in Aiyetoro, where the Speaker, Surajudeen Ishola Adekunbi is currently representing, delegates numbering 188 out of the 189 voted for him to return to the House.
The lone vote was voided by the returning officer, Kayode Sangolade, having been wrongly addressed.
Also, at Ijebu Ode, the Deputy Speaker, Tola Banjo, who has been having a tough time with his people in the last few weeks, was reported to have also emerged the party candidate. The two other aspirants from Ijebu Ode are Sulaiman Kuku and Aare Kemi Oduwole.
In Ewekoro, where Majority Leader, Israel Jolaoso represents, the other two aspirants from the area, Sola Enitan and an unidentified aspirant were reportedly pressurised by the governor and his brother, Alhaji Abidoye Amosun to step down for Jolaoso.
In Abeokuta South 2, where the incumbent, Olufemi Allen Taylor had defected to the Social Democratic Party, SDP, his ticket was given to the consultant to the governor from Abeokuta South Idowu Olowofuja.
The atmosphere at the Abeokuta North was charged as supporters of one of the aspirants, Oludotun dominated the venue of the primaries, calling for a level playing ground.
Oludotun, according to investigation was the preferred candidate of the people from the area to the incumbent, Olayiwola Ojodu, but was asked to step down for the latter.
In Ipokia, the people openly expressed their non acceptance of the candidate of the party, APC, Mrs Felicia, a school teacher, which resulted in a wide protest and boycott by some delegates.
Report from Ijebu East revealed that one Bola Badejo, one of the new decampees from the Peoples Democratic Party, PDP was given the ticket amid protest.
Four other aspirants contested the primaries but he was given the ticket and formal ratification was conducted today.
Ganiyu Oyedeji was declared the winner from Ifo State Constituency 2, where Hon. Adijat Adeleye-Oladapo who defected to the Peoples Democratic Party, PDP after winning the ticket for the second term on the platform of APC.
Other areas that have their lawmakers returned for the second term are; Sagamu 1&2, Ifo 1, Ado Odo/Ota 1&2, Ogun Waterside, Abeokuta South 1, Ikenne.
As at the time of filing this report, our correspondent was yet to receive the results from the other parts of the state.

Load more