The founder of the Synagogue Church Of All Nations, Prophet Temitope Joshua, has asked the coroner investigating the collapse of a guest house within the church to stay further proceedings on the inquest.
Joshua also asked the coroner to suspend further action on his summons to appear before the court to give evidence.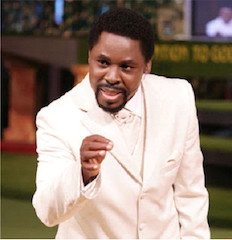 The cleric said that the stay of proceedings was pending before Justice Lateefat Okunnu of an Ikeja High Court.
Joshua's counsel, Mr Olalekan Ojo, made these known on Wednesday in an application filed before Mr Oyetade Komolafe, the Coroner, investigating circumstances surrounding the collapse of the building.
The News Agency of Nigeria (NAN) reports that 116 people were killed in the collapsed six-storey building on Sept. 12.
At the resumption of hearing on Wednesday, Ojo told the Coroner Inquest that he had only served the application on the Lagos State Government.
Ojo said the application was not ripe for hearing because it was yet to be served on the other parties.
"It is our position that it is pending but not ripe for arguments," he said.
Counsel to the Lagos State Government, Mr Femi Adamson, confirmed that they had been served but had not filed their reply.
Adamson said:"Our own view is that the application has been taken over by events and we did not bother to respond."
Following the development, the coroner said it was proper to dispense with the application first before continuing with taking of evidence from other witnesses.
Komolafe therefore directed Ojo to serve the application on the relevant parties to enable them file their responses.
He also said that the church had submitted the address of Hardrock Construction and Engineering Company, the contractor which handled the collapsed building, to the inquest.
The coroner therefore adjourned further hearing till Dec.5.
Meanwhile, the hearing of the case before Okunnu, earlier slated for Wednesday, could not go on following the absence of the judge.
She was said to have travelled to Dubai for a judges' retreat and no fresh date was given for the hearing of the suit.
Load more