Okafor Ofiebor/Port Harcourt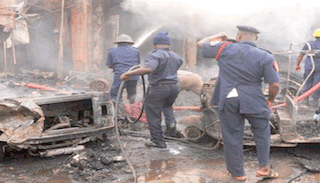 A multi-billion naira newly reconstructed Town Market (popularly called New Market), by Governor Chibuike Administration was last night partially gutted by fire, consuming goods and property worth millions of naira.
An eyewitness said fire started at about 6:30pm about half an hour after traders closed for the business on Tuesday.
The root cause of the fire could not ascertained but eyewitnesses are claiming that high voltage of electric current from the Port Harcourt Electricity Distribution (PHED) that was just restored light at the time the traders were closing for business could have been responsible.
However, others claimed that fire was caused by the ritualists and some fetish traders who annually set fire in markets as sacrifice to boost their financial base.
About 80 shops mainly makeshift structures were affected. The affected areas were illegal structures attached to the government approved plan of the market, which was rebuilt by Governor Chibuike Amaechi's administration.
The areas include: Blocks 11, 12, 13 and 14 of the market mainly shops of foodstuffs and condiments and textile materials.
Firefighters from the State Fire Service battled hard to put out the fire preventing the fire from spreading to other parts of the new market.
There was no record of death, but some persons were injured while attempting to retrieve their goods from the fire.
Two traders who gave the names as Messrs Mathias Ikem and Chinedu Elechi said they lost all their wares in the inferno.
Commissioner for Special Duties, Mr. Dickson Umunakwe who confirmed the fire incident, expressed sadness and said the state government is interested in getting to the root cause of the fire.
He,however, cautioned against the storage of inflammable materials like petroleum products in shops. He also decried the incessant fire disasters in the various markets in the state and appealed to traders and electricity consumers to always put off their electrical appliances when not in use to avoid sparks when public power is supplied.
Rumuwoji market, popularly known as Mile One market in Port Harcourt, the state capital was gutted by fire December 17, 2013.
The gift of 250 million naira presented to the traders by the Adamu Muazu national Chairman of the Peoples Democratic Party, PDP, on behalf of President Goodluck Jonathan, as relief to the victims of the fire disaster has become a source of controversy and crisis among the traders over sharing formula.
Load more