Kazeem Ugbodaga, Yisa Jamiu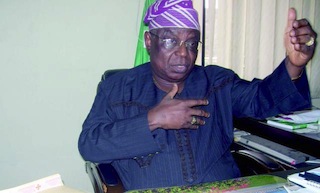 Lagos State Chairman of the All Progressive Congress, APC, Chief Henry Ajomale has forfeited his right to vote at the ongoing party primaries to choose a governorship candidate for the party in Lagos.
This follows allegations that the Lagos party chairman has sent bulk text messages to delegates that they should cast their votes for a certain aspirant.
Ajomale had mounted the podium to debunk allegation that he was the brain behind the bulk text messages to delegates.
According to him, text messages had gone round to delegates claiming that he had asked them to vote for a particular aspirant.
"I did not send text message or tell anybody to vote for certain aspirant, all the delegates are mine, vote according to your conscience, I denounce that text message openly here," he said.
Ajomale said he forfeited his right to vote for the candidate of his choice in view of the allegations levelled against him, while describing the text messages as fraudulent.
Earlier in his opening address, Ajomale said the task before the aspirants was not going to be easy, but noted that all aspirants were qualified to represent the party at the governorship election.
"But only one of you will emerge among 13 of you. You are all respected leaders of the party, but remember that only one of you will emerge. There is no winner, no vanquish, you are from the same family.
"Whatever result we have today, know that it is not a do or die affair. Let the battle begin," he said.
A representative of the APC National Primaries Committe who moderated the conduct of the primaries, Dr. Peter Obada said the APC is a party set to change things in Nigeria.
In the light of this, he said "charity must begin from our own bedroom. Lagos has been a model for democracy.
"I counsel you that we behave in orderly manner so that we do not cancel the credibility we have earned. Lagos State has lots of goodwill when it comes to democracy."
According to him, aspirants had the right to complain and make recommendation to a committe that had been set up for that purpose.
He said the primary purpose of the APC was to capture power at the centre as the PDP had sent the nation into mourning because the unrighteous people were in power.
Load more