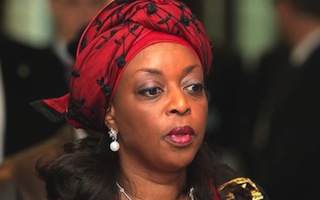 OPEC is facing a challenging time due to the fall in oil prices and many members and non-members are "suffering immensely", the cartel's president and Nigeria's oil minister, Diezani Alison-Madueke, said Wednesday.
"This is a very challenging time as you know for OPEC and for the global crude oil wells as a whole," she told journalists in Abuja.
"Many countries both OPEC and non-OPEC countries are suffering immensely," she said.
Alison-Madueke said Venezuela, Angola, Algeria, Iran and Nigeria had either taken strict fiscal measures to cushion the effects of the plummeting prices or had their budgets placed "under duress".
Russia, a non-OPEC country that is not cutting production, is witnessing a drop in the value of its currency, she said.
"Our prayer …is that we will be able to stabilise the crude oil prices per barrel over this period because it is critical," she said.
Crude prices are currently hovering around 70 dollars a barrel in New York and London.
The minister said she would closely monitor the prices to determine if a special OPEC meeting was needed to discuss strategies to address the situation.
Nigeria, Africa's largest oil exporter, has to be more competitive "at this time and going into the future. We cannot continue to do business as usual," she said.
Corruption and mismanagement have blighted the nation's oil industry.
Crude oil is the mainstay of Africa's largest economy.
Nigeria said last month it was reviewing its fiscal and monetary policies to deal with the predicted fall in revenues after oil prices fell by a third since June.
Finance Minister Ngozi Okonjo-Iweala said spending plans made on an oil price benchmark of $78 dollars a barrel for 2015 were being reviewed downward to $73 dollars a barrel.
She said oil accounts for 83 per cent of Nigeria's exports.
Load more