Harrison Iyoha
Across the country students of various institutions of higher learning are having one reason or the other to hit the streets in protest. Findings by our reporter revealed that there is one thing common among all the schools in the country which the students have been coping with. just last week, students of the University of Jos took to the streets to demand for the immediate reversal of their fees and other hidden charges imposed on them by the school's management.
  The Vice-Chancellor of the University of Jos, Professor Hayward Mafuyai, last Thursday confirmed that eight of his students were shot during a  protest in the institution on Tuesday.
According to him, "it is disheartening the level at which university properties and those of some innocent bystanders  were destroyed during the unfortunate misadventure. One is left to wonder why students would deliberately want to break, burn and destroy facilities that are meant to enhance their learning experience.
"The report I have before me indicates that there are eight confirmed students who sustained gunshot wounds following the altercation with security personnel who were drafted in to contain the situation.
"While we are deeply saddened by the plight of those students who sustained injuries during the fracas, we wish them quick and full recovery. We have visited all those who are still hospitalised and are also in touch with authorities of the Jos University Teaching Hospital to ensure that all those who need specialist attention are promptly given that.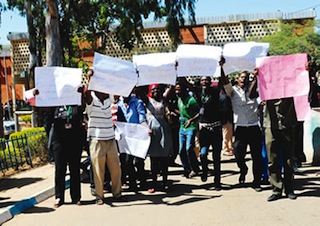 "Despite our best efforts to ensure that we keep the school open pending the return to normalcy, we had to take the painful decision to shut down after we received a security report from the Plateau State Commissioner of Police recommending the school's closure as a measure to de-escalate the situation.
  "I wish to also appeal to all stakeholders of the university to join hands with the school authority towards rebuilding confidence among each segment of the university community so that together, we can salvage what may otherwise seem like a helpless situation.
"My appeal to students at this point is to show real leadership by retracing their steps and returning to the path of dialogue."
Students of the institution last Monday and Tuesday engaged in protests, demanding for  the reduction in school fees and the abolition of development and other levies.
The President of the Students' Union Government (SUG), Abel Nok Du, said the students were  not happy with the recent  increase in  school fees.
"We are calling for the removal of N10,000 development levy from our school fees. We are also calling for the reduction of N25,000 acceptance fees for admission."
The students vowed to continue to lock their lecturers and VC out of the school until the school management rescind their decision to increase their development levy.
According to him, "in the Northern part of the country University of Jos students pay the highest development levy, including acceptance fees.
Speaking to our reporter on phone, Ogbeide Odion, a final year Medicine student, disagreed with the decision of the school management for trying to increase their fees.
"I really don't understand the reason they want to make life more difficult for us. Why should students be paying that kind of money just because he/she got an admission? Forget the fact that I am in my final year, I can tell you this protest will affect our calendar. I was supposed to graduate this year but the unnecessary strike embarked upon by ASUU affected me and now that I was preparing for my exams, this has happened again.
"I can't even graduate this year It's so annoying, but unfortunately there's little I can do about it. All I wish is for this issue to be quickly resolved and we go back to class."
Another steudent, Omotayo, berated the management of his school (LASPOTECH), saying  "Our educational system in this country can be described as the dance of the pigeonm, which takes a step forward and ten steps backward. When we achieved something tangible in the sector we tend to bring another policy which destroys the previous achievement. Very soon, sons and daughters of the ordinary man on the street will not be able to afford good education in this country because of how they rob students through outrageous fee.
"Paying of outrageous fees in our tertiary institutions has now become a normal tradition every year. School authorities promise  to provide students facilities but, at the end of the day, the majority of students don't have access to the facilities which they pay for. I remember during our time in ND1, we paid a certain amount of money for ICT practicals. To our surprise throughout the semester we did not have any practicals for the course, which means we did not get good value for our money. Many of the facilities in our institution are just there not for the primary reason, some are there to just beautify the environment. During our second year in school, the department told us to pay N2,500 into a separate account which is different from the school account naming it third party. The questions that we were asking ourselves then wwere: why are we paying the fee into a different account? What is the purpose of collecting this money? But the school failed to answer our questions. There are so many levies students pay for facilities without getting access to them. Personally I am using this opportunity to beg our school's management to make every student to get full value for their money."
Sunday, another student told our reporter that those in charge of education in Nigeria are only concerned about milking students' poor parents.
"In 2011 when I got admission to study Mass Commission as a part-time student with the Lagos State Polytechnic, my acceptance levy + activation fee was N18,000, computer education fee was N10,000 and sms was N500. The annoying part of it was that I never got to use the school ICT centre as the only day we wanted to use the place, the man in charge sent everybody from my class away that the school management never informed him that we were coming and I only got sms for that session just once.every year. We pay for ICT and sms but we never get to use the ICT or receive sms.
"The day I went to the bank to pay my ICT and acceptance fee, the cashier was surprised to see me pay that heavy amount for just acceptance and ICT and she told me that when she got admission to LASPOTECH, her acceptance fee was just N5,000. How they come up with such fee still beats my imagination."
Sunmisola, a student also said: "This is the second year I am paying for UNILAG medical fee and I haven't fallen sick so the money is just going. it used to be N9500, We get to pay all those bills. N5000 was added to our fees, which is now N14,500. Science students pay N10,500. The N5,000 they claimed is for health insurance but virtually not every student falls sick so as to use the insurance.
Load more