Okafor Ofiebor/Port Harcourt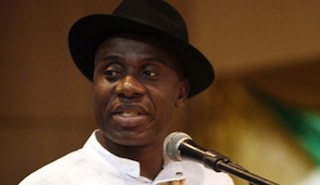 Rivers state governor and Chairman of Nigeria Governors' Forum, Rt. Hon. Rotimi Amaechi has promised to renovate damaged stalls at the Port Harcourt new layout market gutted by fire on Tuesday night.
Amaechi made the promise when he visited the market to assess damaged shops and facilities at the market on Thursday. He was accompanied by state executive council members and the caretaker chairman of Port Harcourt City Local Government Council, Hon. Nnamdi Nwuche.
Addressing traders at the market, the governor promised to give financial assistance to those whose goods were gutted by the fire to enable them get back to business.
"We will send the Commissioner for Special Duties and Commissioner for Commerce to get us the names of those whose goods were destroyed and government will give you some assistance to replace your goods. Government will also rebuild these shops," he said.
Amaechi said although the stalls were not to be used as lock-up shops, traders at the market went ahead and used them as lock-up stores and housed wood and other inflammable materials.
He further promised to get a private firm to manage and run the market, noting that, when the market was built the stores were not meant to be used as lock-up.
"It is those woods that must have led to this fire and one man's wood has now burnt everybody's property. You now agree that you cannot manage your market, both you (traders) and local government, so, I will have to intervene. I will appoint a company that will manage this market. They will tax you every month.
"When we built this market their was water but you've allowed thieves to come here and vandalize it. I put a generator here, I put water hose for fire, all of them have been vandalized, so you are not managing well. We would get a company that will manage this market, replace all those things and you people will pay some money to them for running the market.
Amaechi said although he needed the support of the traders, he would still do what is right. "I need your votes but I also need you to run things properly. Now when we say to you that we will appoint a private company that will manage the market and when we say they will tax you, we know that most of you who are selling here are earn little, so we are not here to take your money.
"When we say they will tax you is not to tax you and give government. What they will tax you for is for them to be able to maintain this place. You need to maintain your toilet, you need to clean your toilet everyday, you need to have water here every day, you need to have your generator on in case there is no light and that is what the company will do. The tax will not be too high, it will just be enough to run this market. They will not give me the money, I don't want the money. If that company was in place, nobody would put wood here because they will tell them, you cannot put wood, you signed a contract for this shop, that's what it is. But because there's nobody to manage it, people were able to put their woods up and down and destroy other people's goods. I repeat I want your vote but I also need to run a government".
Amaechi warned the traders not to use private generator sets and inflammable material in their stores.
The Mayor of Port Harcourt City Council, Hon. Nnamdi Nwuche speaking to Government House reporters, lauded Governor Amaechi for the on-the-spot assessment of the market.
"Governor Amaechi is the people's governor and everybody is happy he came. They don't even want him to leave. They want him to still talk to them. That is what good governance is all about."
Nwuche said his council would work together with any company appointed by the governor to run and manage the new layout market.
Also Speaking, State Commissioner for Special Duties, Hon. Dickson Omunakwe recalled that firefighters from the State Fire Service were on hand to quickly put out the fire, noting that it started from an electrical spark.

Load more