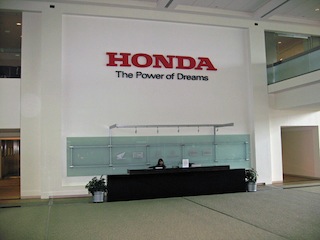 Japanese automaker Honda said Friday it was extending its US recall nationwide on cars with potentially deadly airbags made by auto parts maker Takata, in a further blow to the embattled firm.
Malfunctioning Takata airbags have been linked with five deaths, including a woman driving a 2003 Honda City in Malaysia, and hundreds of injuries.
Honda said it is recalling a further 3.2 million vehicles across the US — this is on top of the 2.8 million already recalled in selected states.
"With the expansion of the programme, the figure will reach six million vehicles" being recalled in the US, the automaker's Tokyo-based spokesman told AFP.
Millions of vehicles produced by some of the world's biggest automakers, including Honda, Toyota and General Motors, have already been recalled due to the risk its airbags can deploy with excessive explosive power and send shrapnel hurtling inside the car.
Since 2008, Honda has recalled 9.65 million vehicles worldwide in connection with Takata airbags.
Honda's latest step came as the US Congress investigates the potentially defective airbags.
The National Highway Traffic Safety Administration of the United States has demanded a recall of all cars in the US with the suspect Takata airbags on the driver's side.
The NHTSA had given Takata until Tuesday night to broaden the existing recall, which has been limited only to cars in hot and humid areas where the risk of an explosive airbag deployment is believed to be much higher.
But Takata rejected the call in a letter to the NHTSA Tuesday, saying its tests showed no necessity to expand the existing action, and noting that supplies of replacement inflators, the part linked to the problem, are still too few to support a full national recall program.
The NHTSA warned Takata it risks civil penalties of up to $7,000 per vehicle equipped with the defective airbags.
US authorities have identified the defective airbags affect 7.8 million vehicles in the United States, but the maximum penalty under law is $35 million.
So far this year some 16 million vehicles from 10 automakers worldwide have been recalled.
Swedish parts maker Autoliv said it would supply replacement airbag inflators to Honda.
Load more