Damilare Okunola/ Abuja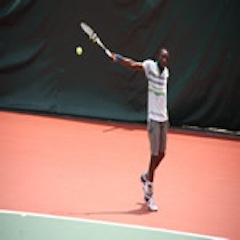 Candy Idoko and Emmanuel Idoko will light up the Package B Arena of the National Stadium with their semifinal match at the ongoing Nigeria Ports Authority, NPA National Tennis Open in Abuja.
The players, who are neither siblings nor relations, will play against each other for the first time in a competitive match which promises to be exciting.
The younger Idoko had to beat Hamidu Abdullahi, 6-1, 6-4 and will seek to show his prowess against Candy, who also ousted former champion, Henry Atseye, 5-3 (rtd).
In the second semifinal pairing, Clifford Enosoregbe, who defeated youngster, Sylvester Emmanuel, 7-5, 6-2, will square up against emerging Joseph Imeh, whose quarterfinal match against Moses Michael was a walk over since the latter travelled to Togo for an ITF Circuit.
In the Women's Singles, Sarah Adegoke continued her impressive form in the tournament after defeating young Angel McCleod 6-0, 6-2, to set up a clash against former champion, Christie Agugbom, whose 6-1, 6-4 defeat of Loveth Donatus proved her superiority.
Blessing Samuel, who beat Chidinma Chukwu, 6-1, 6-2, will tackle Osareimen Airhunwunde in the second semifinal clash today.
In the Doubles Final to be decided today, the pair of Abdulmumuni Babalola and Taiwo Owolabi will square up against the duo of Candy Idoko and Lawal Shehu while former champions and wild card entrants, Osaro Amadin and Margeret Olagundoye will come up against Agugbom/ Samuel combination.
Meanwhile, P.M. News Sports can reliably inform that many players have arrived Kano, venue of the Dala Hard Court Tourney while some others will leave today for the tension-soaked region.
According to the schedule of the event, the preliminary matches of the tournament will commence today as players will hustle to get to the money-spinning stage of the championship.
Abubakar Sadiq Tswako believes that it is a good development for Nigerian tennis, but hopes that this trend continues for a very long while.
In a brief chat with our correspondent in Abuja, the youngster noted that, "I really wish that this trend will continue in the country. This is what happens in other countries that I have been to, our tennis has to grow really fast."

Load more