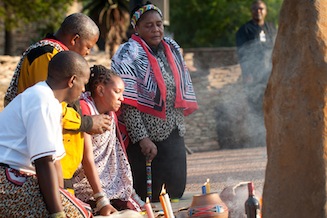 As smoke rose from the long, spiralled kudu horns in his hands, tribal chief Ron Martin raised his voice and praised the spirits of South Africa's ancestors, one year after Nelson Mandela's death.
"Sida sida ge ra tsoa-tsoa" ("we begin, it is our beginning"), he sang as the country remembered its most beloved son.
Before the advent of democracy in 1994, practising the ancient beliefs of the indigenous people of southern Africa was frowned upon by the apartheid government, said Martin.
But on Friday, as religious leaders and traditional healers gathered for an early morning interfaith prayer service to mark a year since the death of the former president and human rights hero, tradition and history were reclaimed and embraced.
The location was fitting: Pretoria's Freedom Park, a monument to the historical conflicts that shaped the modern South Africa — the Boer wars, the world wars, and the anti-apartheid struggle to which Mandela dedicated his life.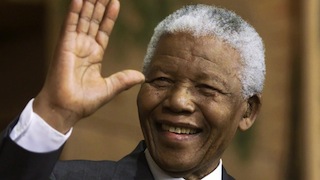 The religious leaders bedecked in beaded necklaces and in leopard print, and in the collars of the clergy, gathered around a circle of boulders inside the amphitheatre.
Traditional healers circled the rocks, pouring vodka, red wine and soft drink over them.
It was an offering, said healer Thobela Kentane: "This is what we used to do to engage with our ancestors and seek guidance from them."
With a guttural groan, a woman scattered handfuls of corn kernels.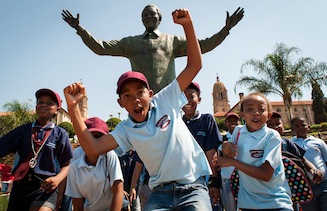 "This is a sacred space," said researcher Kgomotso Lekalakala, "a spiritual place where all heroes and heroines from the liberation are put to rest."
A place to represent all African people and honour them as freedom fighters, said Rastafari representative Xolani Majikela. A place to ponder Mandela's message of peace.
"Leave the things of the past and look forward to the future," he said. "The world should know to establish peace and stop bloodshedding. We don't need war."
The former president and Nobel peace prize winner died on December 5 last year, after a long illness.
In a somber ceremony attended by government officials, diplomats and South Africans of different races, speaker after speaker lauded the icon.
"He fought for freedom and for freedom he was prepared to die," said Ahmed Kathrada, a prominent anti-apartheid activist imprisoned for years with Mandela. "That was the Madiba we always remember: a father, a family man, and above all the people's man."
And resting alongside his struggle brothers and sisters, Mandela was happy, said his widow Graca Machel.
"Madiba is, in spirit, the same even today," she said, "I know Madiba is smiling, Madiba is happy because he is amongst the family he chose to build."
Mandela was buried on December 15 at Qunu, his ancestral village in the Eastern Cape region.
Load more