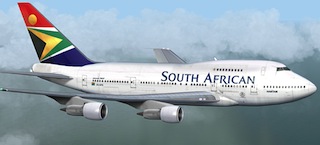 South African Airways (SAA) today announced that it has commenced adding additional frequencies to its network which will substantially increase air services to some of its key African routes.
The additional capacity injection answers the commercial mandate of the Long-Term Turnaround Strategy (LTTS), and is in response to positive market growth. As of yesterday, Harare (Zimbabwe) and Maputo (Mozambique), have included additional frequencies, with Kinshasa (Democratic Republic of Congo), and Mauritius to follow.
"The strengthening of these routes comes in the wake of positive load factors and increased traffic between the countries," says SAA Acting Chief Executive Officer Nico Bezuidenhout.
Presently, GDP growth in Mozambique (7 per cent – African Development Bank) and the Democratic Republic of Congo (8.1 per cent – African Development Bank) exceed World Bank growth statistics for the continent (4.7 per cent – 2013) while South Africa's trade and demand for leisure and business travel to Mauritius is growing at a steady pace. "Air lift services traditionally lead GDP in all markets and also track the rate of increased leisure travel, investment and business engagement between South Africa and its continental peers."
Effective from 1 December SAA increased frequencies between Johannesburg and Maputo by 24 per cent from 17 to 21 weekly frequencies, effective 1 December Johannesburg and Harare from 18 to 19 every week (6 per cent), effective 4 December Johannesburg and Kinshasa from 6 to 7 a week (17 per cent) and effective 4 December Johannesburg and Mauritius from 9 to 10 weekly frequencies (11 per cent increase). Updated schedules are available across all SAA distribution channels, including its website www.flysaa.com.
Load more