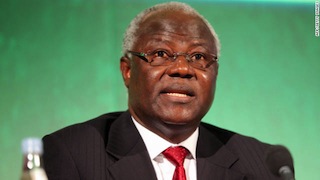 Sierra Leone warned on Friday it would jail entire families if Ebola victims who appeared to have been washed after death were discovered in their homes.
The tradition of cleansing the dead before burials remains a major factor in the spread of the highly infectious virus, the government said, despite numerous appeals for Sierra Leoneans to refrain from the practice.
"When the family calls (the burial hotline) and it is proved that the corpse has been tampered with, we are going to quarantine the entire family or take them to holding centres for 21 days," said Palo Conteh, head of the government's National Ebola Response Centre.
"If they are negative, they will be taken to prison for a certain period under the state of emergency. If they are positive, we will send them for treatment.
"If they die, that will be their fate. But if they survive, again they will be sent to prison."
Conteh, speaking to reporters in Freetown, did not specify if children would be held criminally responsible, or what would happen to them if their parents were jailed.
The government says civil unrest and disobedience in parts of the country are making it impossible to beat the outbreak, which has already killed almost 1,600 people.
Conteh has appealed to Sierra Leoneans on several occasions to refrain from behaviour which might promote the spread of the virus but said people continue to break temporary laws aimed at curbing the epidemic.
"I am now ready to meet such people head-on with the law and by no means should we as a people allow the Ebola virus to live with us as a nation," he said.
"Anyone found in violation of the law as far as burials, washing of corpses and keeping sick people in homes… will be dealt with severely."
– Still hiding bodies –
Sierra Leone, which has registered an alarming surge in cases in its western area including the capital, has seen numerous episodes of unrest since President Ernest Bai Koroma announced a state of emergency in July.
In October two people were killed in the eastern town of Koidu in a riot started when health workers tried to take blood from an elderly woman and days later an ambulance was overturned by a mob and pelted with stones.
Ebola is spread through contact with bodily fluids and experts have identified traditional funeral rites such as washing victims as a key mode of transmission.
Among a raft of emergency measures imposed by Koroma, Sierra Leoneans have been ordered to report Ebola deaths to the authorities or risk prosecution.
But Conteh said people were still hiding the bodies of loved ones from specialist disposal teams, fearful of the stigma associated with an Ebola death in the family.
The outbreak has left 6,070 dead since December last year, nearly all in west Africa.
Sierra Leone confirmed Thursday it was some way short of a key target to reduce the spread of Ebola by isolating almost three-quarters of patients in treatment beds.
The World Health Organization (WHO) set a 60-day goal on October 1 to isolate 70 percent of Ebola patients in Liberia, Guinea and Sierra Leone and ensure safe burials for 70 percent of bodies, which are highly infectious.
But in Sierra Leone, only 60 percent of patients were in isolation by December 1, Conteh told reporters in Freetown.
The Ministry of Health said in a statement Friday 100 Nigerian health workers had arrived to boost the response and would be deployed to the northern districts of Port Loko and Bombali.
Load more