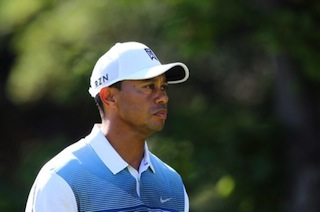 Tiger Woods battled through nausea, fever and vomiting to fire a 3-under par 69 Saturday at the Hero World Challenge, his first tournament after a four-month injury layoff.
The former world number one birdied the last three holes to stand on level par 216 for 54 holes at Isleworth but remained last in the 18-player field despite shooting lower scores this week the sicker he has felt.
"It wasn't easy. I fought hard," Woods said in a hoarse whisper. "Spent all I had."
Woods, who had not played competitively since the PGA Championship in August because of a back injury, vomited from the first hole onward, making six birdies and three bogeys on the day.
"I've been throwing up for hours," Woods said, noting he has unable to keep down food or sleep well but was not in pain and never considered quitting.
"I wasn't doing too good at the beginning but I thought I could hang in there," Woods said. "The fever just broke. As the round went on I was starting to feel better."
Woods, who opened with a 77 Thursday, fired a 70 Friday with a fever but was worse off Saturday.
"I didn't have nausea and vomiting before," Woods said, adding that it left him weaker.
"I just didn't have the explosiveness," he said. "I was pretty slow."
The 14-time major winner, chasing the career record of 18 majors won by Jack Nicklaus, has only been hitting balls for a month and has again revamped his swing by returning to a style from younger days.
Woods turns 39 later this month — and no player has won four majors beyond that birthday.
– Spieth seizes command –
Runaway leader Jordan Spieth fired a bogey-free 63 to stand on 20-under 197, breaking the 54-hole Challenge record of Padraig Harrington in 2002 at Sherwood by one shot with a long birdie putt at 18.
The 21-year-old American stood seven strokes ahead of second place Henrik Stenson and Keegan Bradley, a Challenge record 54-hole edge, with Woods 20 adrift.
"That's the lowest score I've ever shot after three rounds," Spieth said. "I couldn't ask for better than that."
Woods has been solid and accurate off the tee the past two days but his short game has been awful and putting has been spotty, a sign fans might have to wait well into 2015 before he reaches competitive form.
His only hint about next year's schedule was that it would be a "probably slightly different" run-up to the Masters in April than normal.
On the first hole, Woods doubled over and vomited after hitting his approach 15 feet from the cup, but followed by making the birdie putt. He battled dry heaves but made a great chip to salvage par at the par-3 second.
"I like to compete," Woods said. "If I can go, I can go. I'll give everything I have."
At the sixth, Woods botched a chip and took a bogey but answered at the par-5 seventh by making an eight-foot birdie putt.
Woods sank a 12-foot birdie putt at the 12th but chunked his seventh chip of the week at the par-5 13th on his way to a bogey.
At 15, he made a downhill putt from off the green rather than chip but missed a 12-foot par putt.
Woods answered with a 12-foot birdie putt at 16 and sank four-foot birdie putts at 17 and 18 for his strongest three-hole run since the British Open last July.
Load more