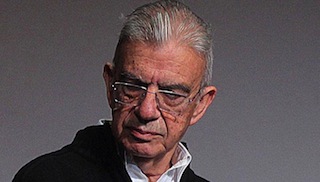 Acclaimed Greek author Menis Koumandareas was found apparently murdered Saturday in his central Athens home, authorities said. He was 83.
Though his cause of death was not yet determined, police said the author had wounds to his neck and face, which also showed evidence of asphyxiation.
Investigators believe Koumandareas went with friends to a cafe in his neighbourhood on Friday evening.
According to media reports, he excused himself at one point, saying he had to return to his flat.
The door to his apartment showed no signs of forced entry, police said.
Police were still piecing together what happened next and have not indicated a possible motive for the crime.
Koumandareas wrote some 20 novels, short story collections and essays starting in the 1960s, and he twice won the state prize for novels. His writing has been translated into several languages.
"The tragic death of Meni Koumandareas deprives Greek literature of one of its greatest authors," Greece's Culture Minister Kostas Tasoulas said in a statement. "Over the past half-century Koumandareas has expressed with his unparallelled sensitivity and personal style the hopes of contemporary man and society."
Known also for translating Ernest Hemingway and F. Scott Fitzgerald, Koumandareas drew sober portraits in his works "Koula" and the "Glass Factory" of post-war Greek society with a focus on Athens' middle class and shopkeepers.

Load more