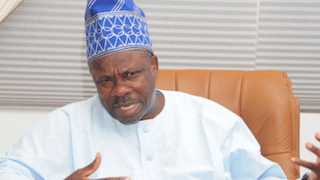 The All Progressives Congress primary to pick the party's House of Representatives candidate for Ijebu Federal constituency, turned ugly this evening in Ijebu-Ode, Ogun state, as the ballot box was snatched by hoodlums at gun point, with armed policemen watching.
Indications that the election could not but end up a farce were demonstrated early, with supporters of one of the candidates challenging the two ballot papers found in the transparent ballot box. It turned out their suspicion was misplaced: the votes were cast earlier by two of the party leaders on hand to watch proceedings.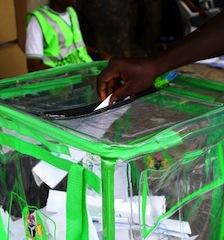 By about 4pm as voting progressed, it was getting clear that the aspirant that Governor Ibikunle Amosun wants to clinch the ticket,Olugbenga Otenuga, may not make it as the delegates appeared voting against the run of instructions, backing another aspirant, Engr. Kunle Ottun, that does not enjoy Governor Amosun's support.
Otenuga served under Amosun as commissioner for physical planning. And Ottun was also Amosun's special adviser.
As tension built up inside Itoro Hall, venue of the primary, the police initially fired teargas into the anxious crowd and delegates waiting outside.
Later at about 7pm, about 25 truck loads of armed policemen stormed the venue, teargassing the people who had re-assembled and effectively bringing proceedings to an end, just about the same time that gun toting hoodlums took possession of the ballot box and went away with it, without police apprehending them.
Voting was almost being concluded when the incident happened. All council and ward delegates from Ijebu-Ode and Odogbolu had voted. The ward delegates from Ijebu North East were voting when the ballot box was snatched, with delegates scampering for safety.
Apart from Otenuga and Ottun, the other contestants are: Kehinde Odeneye, the incumbent occupier of the seat, Kolapo Korede Osunsanya,Jubril Adewale, Omoba Ademola Okulaja.

Load more