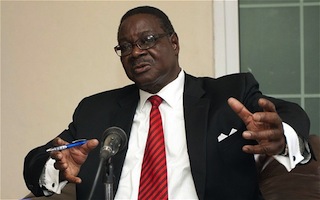 Malawian President Peter Mutharika and his deputy have deferred a controversial pay rise for themselves, a top government official said Sunday.
The 80 per cent increase for the president had drawn criticism in the impoverished southern African nation whose economy has struggled. Prior to Mutharika taking office, Western donors had suspended aid worth $150 million because of concerns over graft.
"While the proposed salary increase may be justified, the president has decided to forego the increase at this time in solidarity with Malawians who are presently undergoing very tough economic hardship," George Mkondiwa, chief secretary to the government, said in a statement.
In the new salary structure announced on Saturday, Mutharika, who came to power after defeating Joyce Banda in May elections, was to be paid $5,263 (2.7 million kwachas) a month. He will now revert to his old salary of 1.5 million kwachas.
His deputy Saulos Chilima, who was to be paid 1.8 million kwachas, reverts to his old salary of 1.0 million.
Pay cheques for the poor southern African country's 20 ministers will however remain intact, having jumped to $3,000 from $1,150, plus benefits including $1,600 in fuel allowances.
The 193 lawmakers who make up the Malawi parliament will be getting $1,150 per month, nearly five times their earlier pay of $242. They will also get $1,600 in fuel allowances.
In contrast, the country's 170,000 public servants earn $100 a month on average. Nearly half of the country's 15 million citizens earn less than a dollar a day.
Information Minister Kondwani Nankhumwa had previously said the new salaries were "in line with the budget" which was passed by parliament last September. The budget includes a deficit of $205 million after Western donors suspended aid worth $150 million.
Load more