Eromosele Ebhomele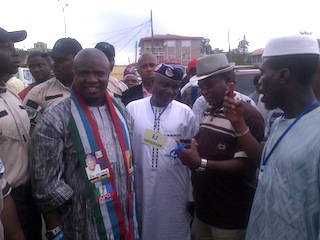 Just minuets after he won the primary election to fly the flag of the All Progressives Congress, APC, in the election to represent Lagos Mainland in the House of Representatives on Sunday, the immediate past chairman of the Yaba Local Council Development Area, Jide Jimoh, declared that his party would defeat the Peoples Democratic Party, PDP, in all the elections to hold in 2015 in Lagos State, Nigeria.
Jimoh, popularly called JJ, won by scoring 494 votes out of a total of 501 votes caste at the exercise that held at the Rowe Park Sports Centre, Alagomeji area of Yaba LCDA in the state.
Seven votes were voided in the election.
A former member of the Lagos State House of Assembly, Adekunle Ademoye, who was supposed to contest the position with Jimoh, stepped down minutes after he was booed by the delegates.
Ademoye later told the delegates that he expected them to boo at him adding that he would have been surprised if they sang his praise.
He told them that he earlier decided to contest for the seat after wide consultation but that he had decided to step down.
This announcement resulted in wild jubilation as the delegates danced and chanted songs to his praises.
Jimoh, who attributed his victory to God, members of his party and the people of the constituency, said the coast had become clear for the election proper.
He said the APC, which preaches change as its mantra, is set to take over the country adding that his victory at the election had shown the love the people have for him.
While promising not to let the people down, he said he would stand by everything the people want, speak their minds and implement their decisions as a member of the House of Representatives.
He also thanked those who contested against him appealing that they should support him while calling for a debate between him and other aspirants from other political parties.
While also commending the people for standing by the APC, member of the Lagos State House of Assembly, Moshood Oshun, said in Mainland, just like Lagos, the party has come to stay.
Oshun who also won the party's ticket last week for re-election into the House, said the people have seen the difference between the APC and the PDP both at the state and the national level.
He expressed optimism that his party would take over the entire country in 2015 appealing to Nigerians for more support especially at this time when the country desperately needed change.
Load more