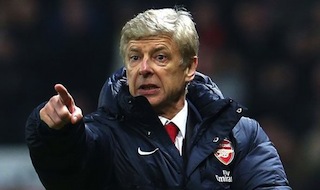 Arsene Wenger admits the lack of experience in his Arsenal defence proved costly as his team spurned the opportunity to give themselves a glimmer of hope in the Premier League title race.
Wenger's side endured more misery at the Britannia Stadium on Saturday as Stoke hung on for a deserved 3-2 victory to place fresh pressure on the Frenchman.
The Gunners had trailed 3-0 at the interval following a catastrophic first-half display, particularly in defence, and Wenger, whose back four included 19-year-old Hector Bellerin, conceded the absence of key personnel had affected his side.
"Stoke started strong and we were not decisive enough in our defensive challenges," Wenger said.
"We gave them a thoroughly good present (with Peter Crouch scoring after just 19 seconds) and after that put a lot of energy into the game.
"In the second half we had good opportunities to come back, but we couldn't do it. We were too tender at the back and when we started to respond it was late in the game.
"We could not play (Laurent) Koscielny (who was an unused substitute) or Nacho Monreal and, with Mathieu Debuchy out as well we were a bit inexperienced at the back.
"All together we struggled to cope with what they offered. It shows that in every single game you have to be committed and focused from the first second. Defensively we were not good enough."
Goals from Bojan Krkic and Jonathan Walters added to Stoke's dominance and only a controversial ruling from referee Anthony Taylor midway through the second half had denied them a four-goal lead.
It threatened to be a major talking point when two quickfire goals from Santi Cazorla, from the penalty spot, and Aaron Ramsey gave the Gunners hope, however the dismissal of Calum Chambers ruined the visitors' momentum.
"If Chambers has to go I will find you five more players that should be sent off," Wenger said.
"We do not want to comment too much on the decisions of referees but watch the game again and I don't think Chambers deserved to be sent off compared to some other people that put arms and elbows in faces."
– Arsenal cast adrift –
A point would have flattered Wenger's team, however, as they missed the chance to make up ground on Premier League leaders Chelsea following their defeat earlier in the day.
They remain 13 points adrift of top spot and have won just once in eight league visits to the Britannia Stadium.
Asked if he took any consolation from Chelsea also losing, Wenger replied: "We have nothing to do with that. Chelsea is Chelsea. Arsenal is Arsenal.
"What we want is to win our games. We don't have to look at what the others do."
Stoke manager Mark Hughes hailed the performance of his team and picked out ex-Barcelona forward Bojan for praise after his man-of-the-match display.
"Three-nil at half-time doesn't happen very often — certainly not to me it doesn't!" Hughes said.
"Bojan's playing exceptionally well, showing people not only is he a very gifted player but he has the work rate and is a team player.
"He has integrated very well as he has a good personality. He has been exceptional in recent weeks."
But the Welshman was unhappy with Taylor's decision to deny them a fourth goal.
"We were disappointed with that from the referee after what was a fine individual goal. Those things need to be correctly called," Hughes said.
"It has gone from a situation where could be 4-0 to 3-2. The game should have been dead in buried but in the end we hung on for the win."

Load more