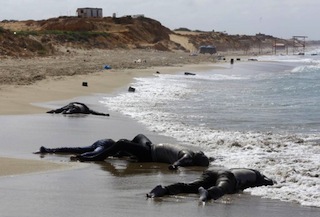 Seventy Ethiopian migrants were drowned after their boat sank off the coast of Yemen, local media and authorities said on Monday.
The Yemeni Interior Ministry said in a statement that all the 70 people aboard the ill-fated vessel died and all were from Ethiopia.
"The small vessel was trying to reach the Red Sea port city of Al-Makha when it capsized in bad weather," the official said without specifying the time of the sinking.
The statement added that a search and rescue squad tried to rescue them, but unfortunately all of them died.
It said that the security forces were striving to hunt down the owner of the boat, who was believed to be a human trafficker.
According to the UN refugee agency reports, hundreds of Africans drown every year while trying to reach Yemen in crowded boats.
It added that over 62,000 asylum seekers, refugees and migrants arrived in Yemen from the Horn of Africa in 2013.

Load more