Eromosele Ebhomele
The Managing Director of Advanced International Merchants Limited, Cyprian Nwankwo, has denied an allegation of fraud levelled against him by an estranged shareholder of the company, Monday Chinke, as published last Thursday.
P.M.NEWS had earlier reported that Mr. Nwankwo sold four plots of land belonging to the Lagos State government to Chinke for the sum of N83 million.
But in a letter by his counsel stating his side of the story, Nwankwo said it was more of a case of persecution by Chinke who, he said, resigned his position from the company and sought to get back the equivalent of his shares in the form of plots of land.
Through his lawyer, C.J. Jiakponna of C.J. Jiakponna & Co, Nwankwo said: "contrary to your report, Mr. Monday Chinke's entitlements came to the sum of N61,357,000 and not N83,000,000" and that though the company sought to settle Mr. Chinke with cash, he demanded that the company should "transfer one of its lands to him in place of his cash entitlement.
"Mr. Monday Chinke, on his own and without any coercion from our client or the company, demanded for the company's property at Aswani, when several other choices he had picked were found to have been used as collateral for loan from banks.
"The company, after meeting certain obligations agreed upon by all parties, transferred the land to him."
Related News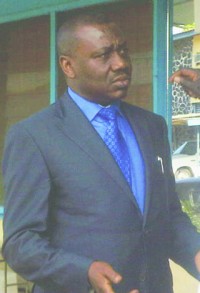 Nwankwo said the claim by Chinke that he did not know anything about the land was false as he was the General Manager of the company and was one who facilitated the purchase of the property from Chief Olusegun Osibote, its original owner before he resigned from the company.
"By virtue of his position in the said company, not only was Mr. Monday Chinke in a position to know about the company's landed properties but was a facilitator and participant in the purchase of any of the company's landed properties.
"Thus, when Mr. Monday Chinke chose Aswani land, he knew perfectly what he was getting but chose to overlook same, and, in a bid to avoid paying money to perfect his title to the land he willingly chose, he sought to harass our client to get another land.
"The land transfered to Mr. Monday Chinke had previously belonged to Chief Olusegun Osibote. Chief Olusegun Osibote had exchanged the land in Aswani with our client's company land of two plots at Oke-Afa, Isolo.
"This exchange of land had been facilitated and overseen by Mr. Monday Chinke in his capacity as the General Manager," Nwankwo said, and produced documents to confirm his defence.
He urged Mr. Chinke to apply for the certificate of occupancy or seek the deed of ratification from the proper family who originally owned the land as done in Lagos State once there is an exchange of owners.
"Mr. Monday Chinke had threatened our client and the company with the use of the police and we wish to inform you that a suit had been filed at the High court against Mr. Chinke to enforce our client's fundamental rights in suit LD/1018MFHR/2014," Nwankwo said through his lawyer.