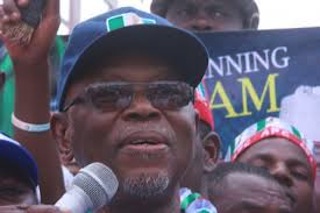 Confusion on Monday trailed the All Progressives Congress (APC) primaries of the Ogun Central Senatorial District as delegates and supporters of aspirants waited for almost 8 hours without election.
The delegates, who had been at the MKO Abiola Stadium, Abeokuta, venue of the primaries, went home disappointed as no one could give reasons why the elections did not hold.
Speaking to NAN, one of the aspirants, Mr Shuaib Salisu, said that nobody could give explanation on what really happened.
"The process is supposed to have started by 8 a.m.; this is some minutes before 5 p.m.; accreditation has not started not to talk of voting.
"We have to call attention to it that the process did not even commence, talk less of being concluded successfully.
" I won't want to go into the realm of speculations; we will like to believe may be there are some logistics problem,"he said.
Another aspirant, Alhaji Ganiyu Hamzat, said that the delegates were not happy with what happened at the venue of the primaries.
"The delegates waited in the sun for hours and before we know what was happening, some people started fighting and that was the end of everything.
"We want the public to know that election did not hold, so, we are expecting the party to let us know when and where election will hold again.
"Our delegates are ready and as I am speaking with you, we don't have any candidate in Ogun Central.
"We want a free and fair election; I do not want to castigate our party; the venue of the primaries was not even conducive; I don't think we can hold a free and fair election in that kind of venue," he said.

Load more